August 2, 2008
0

found this helpful
We've had this problem in the past and the only way we could figure out how to deal with it was to put food down only at feeding time in a clean bowl (washed and kept inside) and stay until our dog had finished then pick the bowl up and take it back inside. I also moved the water bowl away so they wouldn't already be there. We kept the concrete patio washed down with the hose so there was nothing to attract them. Sometimes we brought her inside the garage to eat then let her back out. Those things are fierce! You can hang yellow jacket traps out away from the feeding area and they'll tend to gather there. I wonder if insect repellent spray on your dog would help?
By Debbie (Guest Post)
August 2, 2008
0

found this helpful
Try buying those fake hornet nests they are made of paper and you can get them at Canadian tire 2 for 10 bucks.
Yes Yellow Jackets are nasty little creatures, but they are territorial, so it they see the wasp nest they won't be within 200'.
It's worth a try
Good luck
Debbie
August 4, 2008
0

found this helpful
The first thing I would do is find where they are coming from and destroy the nest. I would do this in the evening. Yellow jackets have their nests in the ground if I'm not mistaken. My father-in-law was cutting grass one day and ran up on a nest, he was stung 11 times before he could get away. Your going to have to find the nest or nests. You can call your county agent and find out what is the best method of destroying them. They have a nasty dispostion don't they? They will even run a body down to sting them.
August 4, 2008
0

found this helpful
My family used to make maple syrup in northern Minnesota. The finished syrup would be stored in "settling" vats during summer. We would can the syrup in the fall.
The "settlings" served no good purpose but I had the idea to bait yellowjackets with it. I poured it about a half-inch deep in a flat dish or pan, leaving the liquid surface far enough below the bowl's rim so the hornets couldn't perch on the edge in order to get it.
So they would "land" in it -- and get stuck. I caught so many the color of the inside of the bowl turned to yellow and black.
Good-quality commercial pancake syrup should do just as well at attracting them. If you are as successful as I was they should get scarce in your area.
August 4, 2008
1

found this helpful
You can also crochet a fake wasps nest if you just have some gray yarn you are not using. It's got to be about 12" tall and at least 9" wide. You can also get an egg shaped balloon and paper mache' flour water glue and news print strips, like we did in school. Paint it gray and shellack the heck out of it, then hang under something so the rain won't get it.
You can also go to
www.waspinator.com/
and get one that comes in a flat package and looks like this. The man on the website takes questions about gardening, plumbing and more. He says that even wasps won't come around another wasp area as they are territorial, so this works for several types of bees. Good luck!!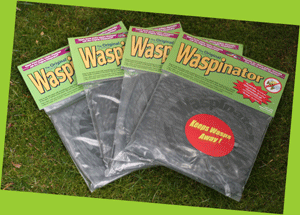 By (Guest Post)
August 4, 2008
0

found this helpful
Why not feed her in the laundry? Then she & the food are safe. Julie, Melbourne, Australia.
August 4, 2008
0

found this helpful
Feed her indoors!
By Barbara J Snyder (Guest Post)
August 4, 2008
0

found this helpful
Hi first they have hanging stuff that you can buy for the bees and stuff next my friend told me if they are flying around a certain spot look for any holes in the wood or stuff and then stuff cotton in it. It stops them from feeding the queen and she dies I did and this one that kept bugging us up and left don't know if it will work but give it a try also raid has a spray too just remove the dog dish and then spray and after everything settles down just put the dog dish down.
By Oberhund (Guest Post)
August 5, 2008
0

found this helpful
Do not spray bug spray on your dog. Your dog will ingest it. When baiting wasps, I've heard that they are attracted to protein in the spring and sugar in the fall. (One is for mating, the other for getting ready for winter).
Someone suggested root beer as a substance that will work for both seasons. If you change the location of your dog's dish, then the wasps won't be hanging around a known food source.