---
ThriftyFun News
Quilting Tips
Volume Seven, Number 20 May 20, 2005
http://www.ThriftyFun.com
---
Hello,
Today's TF News is about Quilting. We have lots of great tips.
Thanks for reading,
Susan
Enter The Photo Contest:
http://www.thriftyfun.com/photo_contest.ldml
Enter The Tip Contest:
http://www.thriftyfun.com/contest.ldml
Frugal solutions to everyday problems: Submit a request...
http://www.thriftyfun.com/add.ldml
This newsletter contains:
Quilting Tips and Tricks
Designing Your Own Quilt Squares
Signature Quilts
Buying Needles For Quilting
Keeping Your Work Area Clean
Trim and Measure as You Go
Use Good Thread When Quilting
Carrying and Storing Quilt Squares
Templates for Quilt Pieces
Question About Jeans Quilts
Family Member's Old Clothes Quilt
Make a Quilt With Cartoon Character Socks
Using Dryer Sheets When Quilting
Adding Water To Your Iron
Iron On Backing For Quilt Pieces
Iron Quilt Scraps
Indian Blue Jeans Quilt
Grandma's Fan Pattern
Quilting - Storing Large Pattern Pieces
Using Small Fabric Scraps For Quilt Tops
Postcard Quilt
Make a Jersey Quilt - For Parents With Kids In Sports!
A Quilt for my Mom
Jeans Quilt
Keepsake Quilting
Quilt from Kids Clothes
Caring for Quilts
Make Your Own Quilt Batting
Recycling Sweatshirts: Making a Quilt?
Search ThriftyFun Using Google: Click Here
---
Tip Contest
---
Submit a tip and you could win:

New Contest Prize! Now a 2 $25.00 Gift Cards
In our contest we are giving away two $25.00 Gift Cards (we willselect to winners at random) at one of the following stores: HomeDepot, Jo-Ann's Crafts or Amazon.com. If you are the winner, youget to choose which gift card! This contest ends on May 15th,2005.
---
Quilting Tips
---
Quilting tips and tricks from our readers. Post your ideas.
Quilters are all fabricaholics. I don't even throw tiny scraps away. The tiniest scraps go into a jar labeled "quilt jelly". Larger pieces about the size of the palm of a baby's hand come in handy when you're doing applique. I thought I was out of black fabric. All I needed was tiny shoes for my Sunbonnet Sue quilt. Sure enough I had saved a very small piece that worked out just right.
Make a weekly trip to the thrift stores. You'll always find new fabrics. I prefer cottons, but I have a friend that uses polyester.
COLORS: Keep stocked up on the basic colors like black, white, red and blue. Paper piecing has made quilting possible for everyone, even kids. Muslin is a real basic need, especially for the back of the small wall quilts.
Before you get started, get out your book that came with your sewing machine. Sit at your machine and go through all the exercises. Know your machine or forget it. I'm hooked on quilting, and I love it.
By Ardis Barnes
Post Feedback: Click Here
---
Designing Your Own Quilt Squares
If you have grid paper, it's fun to design your own quilt squares. Keep it simple, but make sure you have lots of colorful fabric, and you'll be sure to have a great quilt. I like to use a color wheel. I have huge doubts about my tastes in color combinations, but I'm getting better. You need light, medium and dark colors. However two-color quilts are great too.
By Ardis Barnes
Post Feedback: Click Here
---
Quilts for children and teens can be designed with light colored strips where friends and family can sign their names. It's called a signature quilt. I made one for my daughter in-law for Christmas, now she already considers it an heirloom, as some of the relatives have passed on.

My grandmother kept my little play clothes and made a baby quilt for my hope chest. Now I'm going to be a great grandmother, and will continue to use it for every child when they are born in the family. I hope my children keep this tradition after I'm gone.

By Ardis Barnes
Post Feedback: Click Here
---
Always buy the best quality of needles to sew your quilt with and use a nice sharp one each time you sew as a sharp needle forms the best stitches for your quilt.
By Twila
Post Feedback: Click Here
---
Tape a common paper lunch bag to the top of the back of your sewing machine to dispose of thread and fabric snips as you sew. This keeps your sewing area neater.

By Pat
Post Feedback: Click Here
---
As you're making your quilt squares, press each time you finish a seam in a pile of squares. If you trim and measure as you are building your seams, your quilt will be much more accurate.

By Ardis Barnes
Post Feedback: Click Here
---
People who quilt or sew learn very quickly that cheap thread isn't worth taking home from the store. Going to a quilt store or a fabric shop is very educational when you ask the right questions. There are threads for a multitude of projects. I choose to use a thread called Sews All because it can be used on anything from satin to denim.
By Ardis Barnes
Post Feedback: Click Here
---
Carrying and Storing Quilt Squares
When you are working on quilt squares, a perfect carrying case for all your stuff you need is a PIZZA BOX. The squares stay nice and flat and all your tools and thread fits just fine.

By Ardis Barnes
Post Feedback: Click Here
---
For drawing quilting paper-pieced blocks, I take a piece of template plastic (available at Joann's very cheap), and then cut small grooves using an exacto knife and a cutting mat, corresponding to the lines of the pattern. Instead of making copies on a copy machine, I use any type of paper (I have even used newspaper), and a pen or sharpie, and draw the lines! Not only do I have unlimited copies this way, but I can keep the template for future projects of the same pattern.

By Levada
Post Feedback: Click Here
---
I would like every type of blue jean quilt that people are willing to share so I can make my first quilts. They are going to be for my three grandsons. What is a good backing? Thanks!

By Bev Sobkowich
Post Feedback: Click Here
---
Family Member's Old Clothes Quilt
Ask one of the elder family members to let you take their old shirts or dresses. Cut them up into strips or squares and make a quilt for the persons child or grandchild. It doesn't have to be fancy. What a treasure this was for my stepdaughter to get a quilt made out of her daddy's old shirts.

There are books in the library to show you how to do a very simple quilt for those who don't sew.

By Ardis Barnes
Post Feedback: Click Here
---
I have been working on a queen size quilt and not sure how to tie a quilt. Do I knot the corners of each block which are 9 in blocks? Any suggestions? Thanks

Deedon
Post Feedback: Click Here
---
Make a Quilt With Cartoon Character Socks
When my boys were small they loved wearing the character socks (Batman, Spiderman, Looney Tunes, etc.) As they grew older or wore out a pair, I saved them to make a quilt. I'm going to use the socks that don't have holes in them to make a "wheel" pattern and use solid fabrics as the background. The socks with holes I will cut and use the good parts, sew together, and use as the binding. This would work with baby's socks as well - the lacy ones would be really cute!

By Susan

Editor's Note: That sounds fantastic! Please share a picture of it when the project is finished.
Post Feedback: Click Here
---
Using Dryer Sheets When Quilting
When quilting with thin, flimsy fabrics, use USED fabric softener sheets as an inexpensive backing. It gives it body and makes it a whole lot easier to work with.

By Susan
Post Feedback: Click Here
---
Looking For Angels For a Quilt
I am searching for pictures, drawings and/or patterns of Angels that are appropriate to use as patterns for Quilt squares. I have looked every where. I want to make a quilt with just angels and would like several different ones. If you have any suggestion as to where I might find these, I would appreciate your help.

Thank you,

Deborah
Atlanta, GA
Post Feedback: Click Here
---
I do a lot of quilting and, as you know, you have to iron a lot of quilt pieces. I was always running out of water for the iron. I have found a really neat way to have lots of water and be able to pour it in your iron without spilling it everywhere. Just take an empty dishwashing liquid bottle, clean it really good and fill with water. Use that to add water to the iron and you have no mess.

By Linda Leann
Post Feedback: Click Here
---
Iron On Backing For Quilt Pieces
I use iron on backing to make the quilt pieces easier to work with.

By sis7460
Post Feedback: Click Here
---
Before starting a quilt, be sure to iron the scraps you plan to use.

By sis7460
Post Feedback: Click Here
---
Blue Jeans Quilts don't have to look like they are made from old blue jeans. I made this one using a purchased panel from Walmart and different colored old jeans plus some beads and a fleece backing to make this Indian style quilt for my sister. The blocks are laid out to represent the 4 directions and the beads (hard to see in the photo) also represent the 4 directions.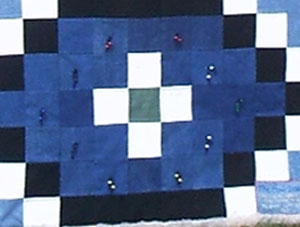 By Pat Jennings
View Article: Click Here
---
The papers that come on the back of panty shields have just the right curve on one end for the Grandma's Fan (quilt) pattern. Just fold the other end in the get the straight edge you want.

By Donna
Post Feedback: Click Here
---
Quilting - Storing Large Pattern Pieces
To store larger pattern pieces for applique, I just roll them up and put them in a empty paper towel cardboard tube. I store them in a box large enough that if the pattern is longer than the tube it wont bend or tear I usually just use a shirt box just mark the outside, especially if you have a lot of projects going on a one time.

By Karen Propes
Post Feedback: Click Here
---
Using Small Fabric Scraps For Quilt Tops
Everyone who sews has lots of small scraps. I use mine to make quilt tops. Cut muslin or light color fabric into strips 4" wide and as long as you want the quilt (maybe 3 yards). Or you can cut squares about 10"-12". Use the sew and flip method to sew the scraps onto the muslin, not trying to match colors. If using squares you probably want to sew the first scrap diagonally across the center. Turn the muslin side up and trim the scrap edges to match. Sew the strips together. Scraps that are too small for this quilt go to a friend who paper-pieces.

By Bettie
Post Feedback: Click Here
---
This quilt, called "Postcards" was done entirely by machine. For the backing I used a seersucker fabric to add to the puffy feel of the quilt.

By Beth
Post Feedback: Click Here
---
Make a Jersey Quilt - For Parents With Kids In Sports!
Take the jerseys you have accumulated and make them into quilt squares. This is a neat keepsake. My son is in hockey and has a lot of jerseys and I am saving them and making squares out of them as he goes on. Each year could be a square (including practice, game and camp jerseys). It is such a neat idea.

By Crystal Podvin
Post Feedback: Click Here
---
This is the second quilt I made. For this one I used some of my kids old clothing...most she bought for them : ).

I cut them into squares and purchased a dark blue sheet for the back.

For the middle I just used an old blanket, instead of batting.

It's a quilt made by her first born with her grandbabies clothes in it.

She loves it.

By Tracey




Post Feedback: Click Here
---
Magnolia Blossom Pattern for a Quilt
I am looking for a pattern of magnolia blossom for a quilt.

Jeanne from TN
Post Feedback: Click Here
---
I'm looking for a firetruck pattern for making a quilt. - Ruthie from SC
Post Feedback: Click Here
---
I had 5 pairs of my children's old jeans and were beyond repair. So I cut them into 8 x 8 squares and some were 8 x 4 rectangles. I arranged them as I desired. Using 1/2-inch seam allowance and with right sides together.

Sew the squares to each other forming one row. Then sew rows to each other.

With right sides together, I used an dark blue flat sheet as the back of the quilt.

Sew the front to the back (like a pillow case). Leave an opening for turning the right way. Then I sewed the last edge together.

And I have a quilt that will last a life time to pass on to my children's children. From jeans that my kids once wore.

By Tracey
View Article: Click Here
---
Around the World Quilt Done In 8 Hours
Many years ago, one of the womens magazine published an article with instructions for a quilt. It was a "Trip Around the World " quilt made in 8 hours. My daughter made it for her Home Ec. class and it turned out nice, but over the years I lost (or accidently threw away) the magazine. Does anyone have these instructions that they could email me?
Thank You,
Mary from Louisiana
forgetfulfreda@yahoo.com
Post Feedback: Click Here
---
Keepsake Quilting
By Rachel Paxton
There's nothing quite like the feel of an old patchwork quilt that was lovingly crafted by hand and worn in gently by countless generations. Anyone can go to the store and buy a quilt, but not many people ever take the time to learn the ancient art of quilt making.

A quilt is not just a bed covering. A quilt symbolizes comfort, warmth, and security, and a quilt made by hand is cherished even more because of the work that went into making it.

I personally have only begun attempting to learn this time-consuming art. Hand quilting is not for everyone, because it requires a lot of patience and a fine attention to detail. One of my first quilting efforts was a small doll quilt I made for my daughter when she was about 5 years old. It wasn't too bad for my first try. My daughter wasn't very impressed, however, and I was absolutely thrilled when years later our cat adopted the quilt as his favorite napping companion. I decided I'd rather see the cat enjoy the quilt then have it end up in a box somewhere to be totally forgotten (he's now having to share the quilt with our new kitten!).

I envy people who have the patience it requires to quilt. I am determined to one day make my first full-size quilt. I first became interested in quilting when I was fairly young. I had a grandmother who liked to quilt, and I will never forget a conversation I had with her one day that will stay with me forever.

My grandmother made many quilts in her day. I was never fortunate enough to receive one of them (she was my grandpa's second wife), but I was lucky enough to see some of her handiwork displayed in her home. One time when I was about 13 or 14 years old my grandmother pulled out a patchwork quilt she had been working on and asked my sister and I if we'd be interested in taking it home and finishing it. We were overwhelmed, but thrilled at the prospect of completing her work of art. She then went on to tell us where all the different scraps of fabric had originated.

"This piece is a scrap from one of my maternity dresses," she told me and my sister. A maternity dress that she had worn more than 50 years before. She had saved scraps from many different pieces of clothing she had worn over the years. Each piece had a meaning for her, and she had saved them knowing she would someday make a quilt out of them. She was, piece by piece, sewing together memories from her life. She was tired of quilting, though, and she would never make another. My sister and I took the quilt home and started adding pieces of our own fabrics to the quilt. We quickly tired of the activity, however, and the quilt ended up in a bag in the closet (where it still sits today).

Every once in awhile I pull the quilt out and look at it, thinking I really ought to finish it. I know that in time I will, and it will represent at least four generations of our family's history. I wish we could learn to live our lives in a way where every day we are striving to consciously make family memories that will stay with us forever. Whether she knew it or not, that is what my grandmother was doing, and I wish to take that idea and consciously put it into place in my daily life, as much effort as it sometimes seems. I know tomorrow I will be glad I did.
View Article: Click Here
---
For an easy Christmas gift, save your used children's clothes. Cut out as many squares and sew them together to make a front cover for a quilt. And just keep adding as they grow and when they are old enough they will have a quilt to remember them of their childhood.

By DonnaE.
Post Feedback: Click Here
---
I am in desperate need of a baby quilt kit or design featuring Thomas the tank engine (or any train really). If anyone has something like that with instructions or knows of a source for it I would really be grateful. Thanks,

Maureen
Post Feedback: Click Here
---
Caring for Quilts
By Joyce Moseley Pierce
For many years my mother worked in sales and lived out of a suitcase as she traveled the country, but that didn't stop her from doing some of the most beautiful needlepoint and cross-stitch work I've ever seen. When she retired, she quickly filled up the walls of her home and kept the local frame shop in business. After she had given favorites to her children and filled every white space in her home, she decided to start making quilts, but instead of just sewing the pieces of fabric together, she cross-stitched or needlepointed squares that would be sewn together by the town's quilting expert.
I was the recipient of one of these beautiful quilts but because my children were small, I didn't want to leave it out on a bed where it might get smeared with peanut butter and jelly, or even worse, colored with crayons or a permanent marker. Instead, I folded it up and put it in my closet inside a plastic zippered bag that my bedspread had come in.
Well, when Mom came to visit the next time, she went looking for that quilt. I assured her that it was packed away and that nothing could harm it. After all, it was sealed in plastic. Nothing could get to it. Boy, was I wrong!
I learned a lesson from Mom about how to store quilts:
1. Don't ever store them in plastic of any kind! It doesn't matter that your bedspread came in it. It's not the same.
2. Don't store them in humid or hot climates. If the temperature feels good to you, then it's okay for your quilt. If you live in Houston you shouldn't even own a quilt!
3. Don't store quilts in attics or garages. It makes a comfy bed for rodents and insects.
Instead, you should:
1. Store your quilt in a pillowcase or sheet, or roll it onto a muslin-covered tube.
2. Place a piece of fabric between the pillowcase or sheet and your quilt to protect it from the acids in the wood.
3. Twice a year, when the humidity is low and the air is blowing, air your quilt outside, out of direct sunlight.
4. Mark your calendar to refold your quilt every 3-4 months so you won't make a permanent crease in it. Crumple up some acid-free tissue paper to help eliminate fold lines.
If you feel comfortable in displaying or actually using your quilts (and isn't that why we make them?), you'll want to follow these guidelines to make your quilt last longer and help retain its beauty.
1. Keep your quilts away from direct light. The sun will make them fade and will age the fabric.
2. If you notice any tears, repair them as soon as possible. Remember that "a stitch in time saves nine," and will help lengthen the life of your quilt.
3. Clean up any accidents immediately. Washable quilts can be cleaned with cold water. My quilt, with the delicate cross-stitching fabric and thread, would need to be dry cleaned by an expert.
4. Before you wash, test the fabric to see if the colors are going to run. Use a white towel and cold water to test each color.
5. Do not put quilts in the dryer or hang them over a clothesline. They should lay flat between two sheets placed on the grass in the shade.
When I was a young, married woman I discovered a box of fabric in my grandmother's closet along with the pattern for a quilt that had been published by the Kansas City Star in the 1920s. Grandma told me she had bought the fabric when my dad was born and had just never made the quilt. She told me if I wanted to make it, she would pay to have it quilted for me. I accepted the challenge, and without knowing anything about quilts (or anything else!), I cut and assembled all of the pieces. It was beautiful, and I remember the pride I felt in knowing that I had sewn every stitch, but even as I laid it across my daughter's twin-sized bed, I could see how thin and worn the fabric had become. I wish now I would have used the pattern and bought newer, more sturdy fabric, that would have lengthened the life of the quilt, but that was just one of life's lessons I had to learn.
Going through the process of piecing that quilt helped me to have a deep appreciation for all of the time and love that goes into each stitch. As I worked on it, I tried to imagine my grandmother as a young mother and wondered what life was like for her. Was motherhood as challenging for her as it was for me? Did she ever imagine that she would have a granddaughter who would treasure this old fabric and the bond it gave to both of them?
Buying a bedspread is fast and fairly inexpensive because they are mass produced, but you can't expect it to give you you the same warm feeling as when you run your hands over the stitches of a quilt that was made by you or someone you love. When your hands caress the fabric and stitches of the quilt you have painstakingly created, the memories of the past are guaranteed to rush into your heart. If that quilt was made by someone who loved you, you will feel a connection that seems oblivious to time.
View Article: Click Here
---
Can you make your own quilt batting out of clothing or something else recycled? I am teacher and would like to make a quilt with my class from as much recycled material (brought in by them) as possible.

Thanks,

AJ
Post Feedback: Click Here
---
Recycling Sweatshirts: Making a Quilt?
I have many sweatshirts that are in good condition that I would like to recycle. I have made a quilt from t-shirts but thought the sweatshirts would be too heavy. Has anyone made a quilt from sweatshirts?

Connie from ND
Post Feedback: Click Here
---
Turning Old Clothes Into a Quilt:

Sew outgrown childrens clothes, either whole or cut, into patterns for a worn quilt using an overcast stitch. You can quilt the pieces in as well. You can do a decorative pattern, or cover entirely. The end result is a wonderful keepsake to treasure.

By Doggy

What are some craft projects you can think of using old clothing?
Post Feedback: Click Here
---
More Stuff
---
Coupon Swap!
Swap coupons with other ThriftyFun.com users:
Seed Swap!
Swap seeds with other ThriftyFun.com users:
Tip Contest!
Submit a tip and enter our contest.
Submit a Request
Frugal solutions to everyday problems.
Search ThriftyFun!
Use Google technology to search ThriftyFun.