March 16, 2010
1

found this helpful
After you plant the seed put some hot pepper sauce on top of the soil,also hang some foil near them, keep the soil damp, keep a watch for them. I keep 2 cans near the door outside, when I see critters near my garden I beat the cans together, they run away.
I also keep some twillers (looks like windmills)in my garden. They go around when the wind is blowing, good luck.

March 17, 2010
1

found this helpful
Go to a hardware store and buy some chicken wire. Spread the wire over the area that has the seeds. Anchor the wire with some rocks. When the plants start to grow remove the wire.

March 19, 2010
0

found this helpful
I had the same problem last year, the squirrels kept eating them and I kept replanting. Then I used the chicken wire and anchored it with tent stakes. I shaped it into arches so the plants could get a little growth before I removed it. It's hard to tell but they are about 3 inches here.
With some of the wire arches I bent the ends down and others I put big rocks on the end to keep the squirrels out. They will try their best to get in so you have to make sure it is secure.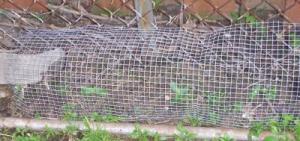 July 5, 2018
0

found this helpful
Try this to deter the squirrels! I made chicken wire cages for the bulbs, we relocated hundreds! I discover that saving dog fur from the brush I use on my collie works! I laid dog fur over each hole where I planted bulbs, and secured it from blowing away with a stick.
The squirrels smell dog fur and stay away. Eventually the fur will decay, adding compost to the soil. I also tried this to protect tender seedlings from being nibbled. It works. If you are not a dog owner, ask a dog groomer for fur!

March 19, 2010
1

found this helpful
When squirrels ravaged my seeds and plants, I put cat hair in and on the ground, and attached some to the plants. It kept the squirrels away for a good while.

March 19, 2010
0

found this helpful
Dang squirrels! I have had the same problems! I planted 75 Gladiola bulbs and every one was dug up and eaten! My 75.00 market umbrella eaten, the 200 and something dollar gazebo on my deck had a skylight eaten out of the center! Tablecloth eaten! My Mom told me to do the chicken wire for the gladiolas & I think I remember hearing about sprinkling cayenne pepper?
The damage that was done last year drove me to the point of trapping and relocating! In 2 months we relocated 21 of the little buggers! I am also told you have to go at least 10 miles away or they will come back!

September 23, 2017
1

found this helpful
Relocating is a waste of time. Other squirrels will slowly move into that empty territory. There are no natural predators to keep the population down. Easy food just makes the population increase, worsening the problem.

May 7, 2019
0

found this helpful
Do not relocate rodents. You are just giving someone else your problem. Our neighbors felt sorry for the rodents and trapped and moved them and now they are a plauge that destroyed my entire garden and yard.
Either deal with them or kill them. Don't move them to someone elses property!

March 21, 2010
0

found this helpful
Sprinkling cayenne pepper over the area should deter them. That has worked for me in all but one circumstance. That was a little pot of cactus plants on my front porch, and even though they often hurt themselves enough to bleed, even cayenne pepper didn't deter them enough to keep them from going back to dig, and get hurt again! LOL Try the cayenne pepper, and remember to re-apply if it rains, or if you water, and also after some days have passed. The squirrels will still go after them, even after they've sprouted, so don't stop too soon!

April 9, 2010
0

found this helpful
Just have to add a funny story to this. Several years ago we were feeding the birds and along came a chipmunk and stole all of the sunflower seeds from the bird seed. Lo and behold about two weeks later I had all these sprouts coming up in my garden all over the place. At first couldn't figure out what was growing in my garden since I hadn't planted anything new. Apparently the chipmunk buried all of the sunflower seeds he collected in my garden. I had the most wonderful sunflowers that year.

May 1, 2010
0

found this helpful
To keep squirrels away from your seedlings and bulbs other than cayenne pepper, sprinkle unused ground coffee all around the plants, when you cut your hair take the hair that has been cut off and sprinkle it around the exterior of your garden. This will keep most animals out. And finally, soak rags in white vinegar and hang around the exterior of the garden even when the vinegar dries on the rags it still repels the animals. I have tried all of these and they all work and haven't had a problem since. :) Happy Gardening.

June 17, 2016
0

found this helpful
Does this work well with stopping birds from eating from blueberry bushes?

June 17, 2016
0

found this helpful
Does this work well with stopping birds from eating from blueberry bushes?
May 14, 2016
0

found this helpful
I put a pot with just soil in it and they haven't touched the other pots with plants in it.They just seem to dig in the pot with the soil.It has only been a week so I'm keeping my fingers crossed.

August 27, 2016
0

found this helpful
Try powered Cayenne Pepper and the put in some wooden spikes(shih ka bob type) upside down with the points up. They don't like the pepper, and the spikes stop them from getting into the soil without getting poked.

April 3, 2019
0

found this helpful
I am having a problem I have never had before. I plant sunflowers every year never an issue but this year in certain spots where they were planted the fi
first 2 leaves came up fine then the second two turned yellow, brown crumpled and the whole plant dies. Plus as I have never seen before birds and squirrels and digging up the seeds before they even break ground.

July 23, 2020
0

found this helpful
I can't hurt animals so I had to figure out something. All of my sunflower seeds have been eaten by squirrels. I just planted more today with the suggestions already given. I bought a small box of plastic forks and placed them next to the seeds as well. netting, the pepper and dog hair, I may have overdone it but I really want some sunflowers for Lord's sake