We call her Girl Friend, Mary Girl, Momma Mary. She is 2 years old and her breed is a little bit of this and a little bit of that.
My son brought her home without telling me. 2 weeks later, he went to school and I heard a little yipe! I opened my son's door and out came Mary.
She loves to play with Frankie all day long! They are best of friends! Mary Girl is little and her best friend, Frankie clocks in at 120 pounds! No matter, her size doesn't matter. Mary is a wonderful, smart little girl and a joy to have around! We love her.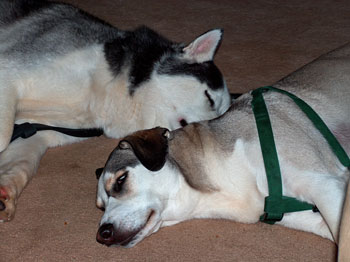 By Debbie Destino from Lewiston, NY