Need a shamrock to show your Irish pride or to keep from getting pinched on St. Patrick's Day?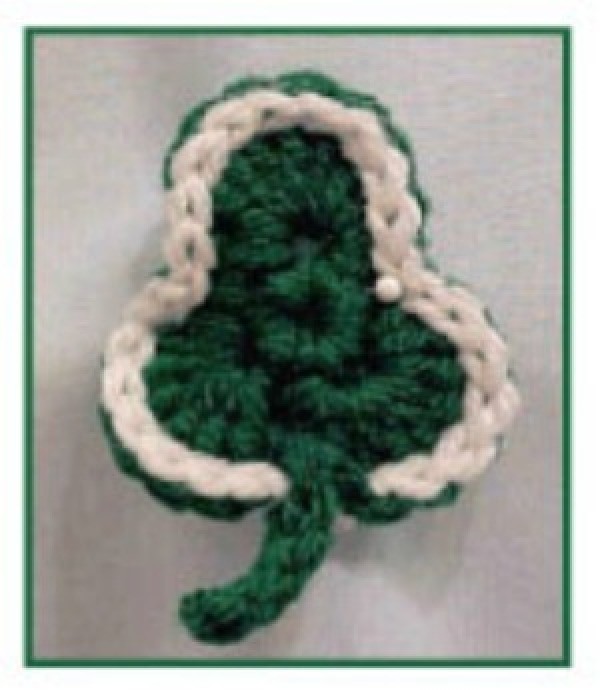 Materials and Tools:
crochet hook size G
small amounts of 4-ply yarn in green and white
straight pin with bead head (find these in quilting supplies)
Instructions:
Leaves: With green, ch 3, join to form ring.
Rnd 1: Ch 1, 6 sc in ring, join with sl st.
Rnd2: Ch 1 (sc, hdc, 6dc, sc) in first sc (Leaf made), sl st in next sc, (work leaf in next sc, st st in next sc,) twice.
Stem: Ch 6, sl st in 2nd ch from hook and in next 5 ch; sl st into last round to join. Finish off.
Push hook through stitch just to the right of stem from front to back and pull up white yard.
White Piping: Working between the stitches, make slip st in each stitch around with last sl st just to left of stem (see photo.)
Finishing: Cut yarn and finish off by pulling end through loop on hook. Pull end to back of shamrock. Turn shamrock over and tie ends together in a secure double knot (white to white, and green to green.) Clip ends off close to knots. Use the straight pin to attach to your lapel.
Click Here for a PDF of these instructions
Read More Comments
A quick little crochet project so you can be "Wearin' the Green."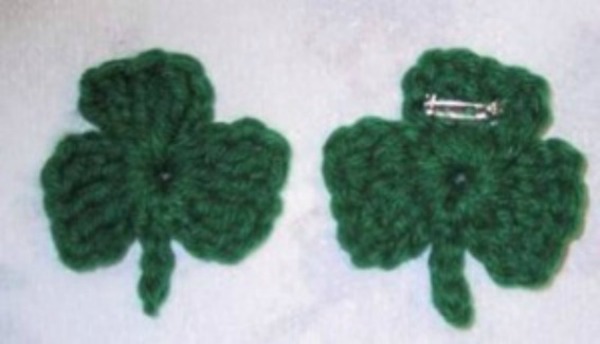 Approximate Time: Mere minutes
Supplies:
Small amount green worsted weight yarn
size J crochet hook
small pin back
hot glue and glue gun
Instructions:
Chain 3, join with a slip stitch in first chain to form a ring.
Petal (make 3): Chain 3, trc, dc, trc, ch 3, slip stitch in ring.
Stem: Chain 4, sc in 2nd chain from hook, and slipstitch in remaining two chains. Fasten off.
Weave in ends.
Lay right side down on heat proof surface. Hot glue pin back to petal opposite the stem.
By Suzie from Bellingham WA
http://suzies-yarnie-stuff.blogspot.com/
Read More Comments