Saving Money on Shipping
With the recent postal hikes, postage can be the breaking point for some people. For those who find themselves shipping items often, the point can be at hand. Whether you ship items for an on-line business, as part of your regular business, or to far away family members, there are ways to save on shipments.
Ship Priority Mail.
It's not much more to ship packages Priority Mail over Parcel Post and Priority USPS Mail offers free boxes and labels. Visit www.usps.com to order your FREE shipping supplies delivered to your door. (These may only be used on Priority Mail shipments.)
If it qualifies, ship Media Mail.
Also known as Book Rate, Media Mail ships a bit slower but it's hardly noticeable when compared to the cost of shipping First Class. Books can be heavy, so ship Media Mail when possible.
Buy packaging in bulk.
Items like those that ship Media Mail or some First Class Mail items still need the ever popular bubble mailer. While they cost roughly $0.72 each at the office supply store (packages of 25), they cost only $0.29 when purchased on-line in quantities of 100 even with the exorbitant shipping costs factored in the total cost of the item. ($7 for a box of 100 with $22 shipping.)
Recycle packaging.
I have as many packages coming into my house as going out. As a result, I've become efficient at recycling bubbled wrap, packing pillows, peanuts, and even bubble mailers. If I affix a new label, many bubble mailers can survive a second trip nicely or I can stuff them inside a plain envelope to create a new bubble mailer.
Factor in the gas.
If you're shipping often, consider using USPS which picks up packages at your home for free. Don't waste gas and time driving to the nearest UPS pick-up location. Check www.usps.com for pickup requests.
Lighten the load.
I remember the days when Air Mail envelopes were those see-through rice paper-like vessels. Keep those in mind while putting together your envelopes. Double side letters and eliminate the paper clips. Keeping letters at one ounce or less locks in the $0.41 rate. Anything over one ounce adds about $0.17 per ounce.
Choose your envelopes wisely.
The typical rectangular envelope (letter or business) can mail at $0.41 if it's less than an ounce. However, a one ounce square envelope costs $0.58. Why? Square envelopes aren't sorted the same and incur extra postal services. Similarly, a rectangular envelope that is turned the opposite way (vertically rectangular rather than the usual horizontal) also costs $0.58. Choose your cards wisely!
Ship to the store.
When ordering from on-line stores, see if they offer a "ship to store" or "store delivery" option. Many large chain stores will ship items to the location of your choice for free. For instance, if you like to choose your items on-line where there might be more of a selection (and less chance to add extra items to your cart) do so and ask that your purchases be shipped to the nearest store. Then, at your convenience go in pick up and get out. My kind of shopping!
Post your ideas below!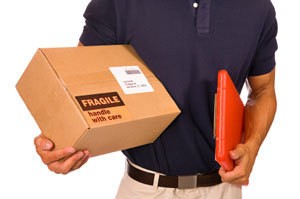 Add your voice! Click below to comment. ThriftyFun is powered by your wisdom!
Add your voice! Click below to comment. ThriftyFun is powered by your wisdom!
Related Content
In This Guide
Categories
Guides
More
Categories