By guest (Guest Post)
June 19, 2007
0

found this helpful
Leanne, while I really enjoyed your sensible mail, and because I've been around cats for a long while, I know most of the things mentioned are natural cat behaviour. HOWEVER, I do think cats can sometimes, especially the very intelilgent ones--reckon, deduce and payback!
This was really brought home to me by my smoke grey female cat.. who thinks she is the Queen! I done something to annoy her.. what I can't remember, maybe not had her fav.food at the time.
Anyway, she followed me into the bathroom which I didn't take much notice of, but then she jumped up on the top of the washing machine so she was head height to me and very deliberately slapped me across the face. Wow! I love her to bits, one of the things I admire about her is her spirit.
June 28, 2007
0

found this helpful
It is true that they are just innocent kitties. It is also true that some cats express themselves to you more overtly. Currently we are trying to get two cats to get along - we got married, I moved in with him, and we both have indoor/outdoor cats. We live in a safe environment for that. They are both fixed & have their immunizations etc.
Unfortunately they're both female as that only adds to the stress they are experiencing. You need a lot of patience to deal with two cats that don't get along, especially if each of you has "your baby".
Getting mad at a cat never helps. It makes things much worse. It is imperative that I give his cat as much love and affection as I give my own; and vice versa. The message there is : We're family now. This is who we are. Period.
Arughhhh... it's tough sometimes. It's been six weeks! But we're making some tiny steps forward. Any advice would be welcome!
July 9, 2007
0

found this helpful
Great advice Leanne.
Cats do scratch things naturally. It's a way of flaking off old tissue from their claws and stretching muscles.
They need at least one scratching post, preferably close to where they wake up so they can wake up and stretch and scratch. Sounds like men, dont it...hehehe
If pushed they can be downright obstinate. They dont ever want to feel that you are forcing them into doing or not doing something. They are very independant minded.
For Cubangirl, I think your kitties just need some time. They will work it out on their own faster than if you try to make them do something they are not ready for.
It's in their best and natural interests to get along, even if they are content to ignore each other. It might help to make sure that your scent is also all over your husband's kitty and your husband's scent is all over your kitty.
Cats are very smart and can end up pushing you around before you even notice. It is said that dogs have owners. cats have staff.
Moki and Simba having a nap.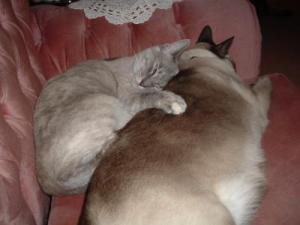 January 14, 2011
0

found this helpful
One of my cats slaps me too if I annoy her in some way!
While introducing new cats to each other I assume they each have their own litter box. If they confront each other and end up in a fight, spray them with a water bottle. Neither one will like it and they most likely will stop. Keep at it whenever you can. Eventually they give it up.
I currently have 4 cats. All of them have lived together with me in various houses. They still have trouble getting along sometimes. Three of them are black/grey/white and the fourth is all black. They don't like the black one (though some tolerate her better than others) and I think it's because she's a solid color and doesn't look like the rest of them.
She's beautiful and strong, but so intimidated by them. She has claws, the others don't, but she isn't even aware of that. I've gradually enticed her to come into the room with the rest of us when we're just hanging out watching TV. She's more and more receptive all the time. I talk to them about being good girls (with a sweet voice) and lots of stroking and petting, and bad girls (with a coarse, deep voice) while shaking my finger and they pick up on it. They're all spayed females, the oldest 2 are 14, one is 10 and the other is 5.
The 10 year old is the outcast and spent most of her time under my bed for about 4 months but things are really looking up. I talk to them all the time about being good, separately and together, and I swear they know what I'm talking about. Picking them up by the nape of their necks is good too when trying to make a point. That's how their mothers train them. Keep your voice stern and deep.
As soon as you see something bad developing put a stop to it. Clap your hands and use your "deep" voice. When they're nice, use your sweet voice and fill them with praise. I have always felt that cats are just too smart to be trained. But you can train them a bit. Just be patient!
January 16, 2011
0

found this helpful
As a cat lover I must say this is one of the best articles I've read. Please folks, try to "understand" your pet.