Chompers is a 6 year old Pomeranian. I worked with a woman who had way too many pets and was pregnant. When she had her daughter, she got overwhelmed and started getting rid of pets. I took one of her cats. A couple months later, I took Chompers because she was going to take him to the pound.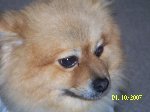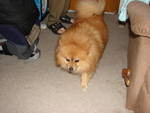 I have had him for over 4 years now and would never dream of getting rid of him! He is spoiled and likes to lay in bed under a blanket for fun. He also loves biscuts and treats. He has 2 stuffed animals with squeakers in them that he holds and chews on.
Chompers is super smart. He has 12 or more nicknames and answers to all of them. He knows how to sit, speak, lay down, roll over, give paw, dance. He will clean himself on command, and use the potty on command. His best friend is our cat Tigger and my 4 year old son who he thinks is HIS, LOL.
Here are some more recent photos of Chompers: