January 11, 2008
0

found this helpful
I love that you're making these gifts for your relatives. Every year, my grandmother-in-law always makes my husband and me a needlepointed Christmas ornament of her own design. Apart from sheer sentimental value, I would think that noncommercial designs would be worth more one day. Signing and dating them would probably help, too.
January 11, 2008
0

found this helpful
I would think that WHAT it's made from is important too!... I think most needlepoint people still use mainly wool, but these days, there's so much to choose from! I'd think that 100% wool would be best & the most long lasting when it comes to rugs, chair covers & things used daily... But you DO have to store it properly because of those nasty little moths! Cotton tends to fade somewhat... But when I buy anything needlepoint (at thrift stores) I'm partial to wool for it's durability... But, that's just me. You may want to e-mail or call a person that specializes in buying & selling lace & old textiles, They'll know the scoop!
---> I agree with adding the date somewhere on the design. If you have the time, Rugs, (especially older wool rugs) can be worth a small fortune!... Wall hangings or table runners are nice too... Also, I'd think about color... I think that one of these would be the most sought after colors: Multi colors (as in floral) Neutrals: like black, brown beige, white, grays & shades of green (they go with ANY decor) or shades of Blue (most people's favorite color)
---> I think you'd just have to know what your kids like... Some like more modern fare, like geometry, angles & cube shapes (like M.C. Escher) Some like Tribal type designs like North American Indian, African or Aborigine... Simple prefer nature scenes like Leaf vines... Then there's folks like me, I like the more tradition things like floral boquets. As you know, each child is different, so maybe you should think about their personality & their color scheme instead of trying to think to far out into the future... I agree that a non-commercial design would be best... Because if you design you own patterns the you'll know they are "One of a kind"!
* I'm making a small wool rug for my son's well-loved camper van. His van's colors are a soft yellow, brown, tan & blue, so that's what colors I'm using... But I did have to easy on the yellow, as it gets dirty so easily! I lived in a house in 1990 that had the original 100% wool carpeting in it from when the house was built (1948)... So the carpeting was 40 years old! .... The carpeting still looked like brand new!... Boy! That wool REALLY holds up well!
CHECK THIS OUT: It's a "VIRTUAL BEAD LOOM" which can be used to help you design needle point as well as Bead-Loom patterns!
www.rpi.edu/.../overvw.htm
www.rpi.edu/.../AppletTest.htm
FREE GRAPH PAPER SITES:
Here's several sites where you can print your own graph paper to help in designing your projects.
www.printfreegraphpaper.com/
www.thepcmanwebsite.com/free_graph_paper_print.php
www.mathematicshelpcentral.com/graph_paper.htm
incompetech.com/.../
* Fancy pattern knitting designs (like fair isle, etc.) & patterns made for knitting machines & punched or hooked rug patterns along with bead loom patterns have wonderful designs that can be converted to needle point!
By g.Campbell (Guest Post)
January 12, 2008
0

found this helpful
I made my sons and others needlepoint Christmas stockings. I also gave them to some who just had babies. I used a commercial kit for two, but really think the ones I designed myself were more special. I used stripes on some, an argyle pattern on another, and a patchwork of different stiches on another. They may not be "commercial" heirlooms, but I think they will stand the test of time in the family. I would definitely suggest signing and dating them. I think I only signed one of mine and I'm sorry now.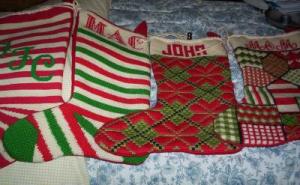 January 13, 2008
0

found this helpful
I am not sure what kinds of patterns or colors will be "worth" more in the future, but one thing to consider when making heirlooms for your family is the quality of the materials you use. With any type of craft there are good, medium, and low grade materials.
If you want your items to stand up to the test of time make sure you use the highest quality materials you can afford. I agree with a previous post about making the pieces to suit the recipient rather than what may be worth more money in the future. Make sure to sign and date them and they will be cherished forever!
January 16, 2008
0

found this helpful
If I were collecting needlepoint in the future, I think I'd look for (1) unique, original designs, (2) signed and dated by the maker, and (3) top-quality materials. After all, it won't last long enough to become an heirloom if it's not made of top-quality fabric and yarn.
If you watch Antiques Roadshow, you know that quality, unique items are the most valuable. Finding a one-of-a-kind item with good provenance seems to be what those wonderful experts live for.