I have a cat that is nearly ten years old who was in need of medication. He is a big stubborn old cat and very difficult to handle when he doesn't want to do something. The first tablet I tried to give him following the approved method of putting the tablet far to the back of the tongue and the holding the mouth closed. It didn't work. I retrieved the pill and tried hiding it in his food, and that didn't work.
Today I got the next pill out and crushed it (powdered it), and then I mixed it with cheese spread and smeared it on his foreleg and left him to it. A few minutes later I checked him. He had cleaned himself and in the process had taken the medication.
By Sharyl from Adelaide, Australia
Add your voice! Click below to comment. ThriftyFun is powered by your wisdom!

Cricket
Bronze Post Medal for All Time! 205 Posts
March 9, 2010
0

found this helpful
Very good idea, Sharylesley. I use the same method only I mix it in with his hairball medicine. Every cat I've ever had loves the taste of that and all I have to do is spread "an inch" on my fingertip and they eat it right up. So when it comes to giving them pills, I mix it in with that and they eat it up.
I have a cat right now that's on liquid meds and I just stick the syringe in the back of his mouth and shoot. He hates it but it gets it down there.

March 9, 2010
0

found this helpful
Great idea! I have a crotchety old male Siamese with a temper and love this idea.

April 6, 2010
0

found this helpful
When I needed to give my cranky (and strong) cat a daily medication, a friend suggested a cream. We asked the vet to make the medicine into a substance I could rub in the cat's ear. The cat still resisted a bit, but with a lot of petting he got used to it.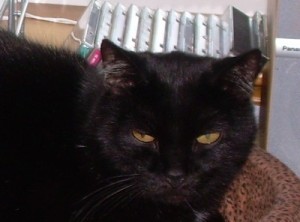 Ginnee
Bronze Feedback Medal for All Time! 135 Feedbacks
February 9, 2014
1

found this helpful
What a great idea. I'm going to try it next time my kitty needs meds.
Thank you!

September 8, 2017
1

found this helpful
Best way to do this was shown to me by a vet!
Get a syringe WITHOUT attached needle. Fill syringe with drinking water and put the pill in the animal's mouth then slowly give the water to help the animal's need to swallow. Works even on my old man. He now knows he does not have to have me put it in his throat and sits nicely when I get the pills ready he never takes off for the hills anymore because he knows his favorite tuna water will be right behind the pill going in his mouth.

November 4, 2019
0

found this helpful
Butter one side of a cat treat and press the pill to it. My cat gobbles it down.
Add your voice! Click below to comment. ThriftyFun is powered by your wisdom!

Does anyone have any tips on how to get cats to take liquid meds?
By BuiRivet

Answers

May 2, 2011
1

found this helpful
Hold onto the cat with one hand and use a medicine dropper to place the medicine in the corner of it's mouth. When you place the dropper against its teeth in the corner of its mouth it will involuntarily open its mouth. Express the dropper and run your hand under its throat to get it to swallow. Though mostly they will anyway. Good luck.

May 4, 2011
0

found this helpful
You can also try to stick the dropper as far down the cats throat as you can without hurting or choking them... then blow into the cats face, much like babies, it will force them to swallow.

May 4, 2011
0

found this helpful
We recently had to give our cat some liquid meds and we nearly gave up. Even with two of us holding her and wrapping her in a towel it didn't work. She'd go one way and the drops the other. I read somewhere (probably on Thrifty Fun) to try adding the drops to her food. It worked.
Just put a small amount of canned food in a dish and add the drops, mash them together and that's it. I hope this works for you, because your cat obviously needs the meds and it can be worrying and stressful for both of you. Good luck and I hope kitty is better soon.

May 4, 2011
1

found this helpful
I agree with poster AnnmacC. I've had to mix the liquid into their wet food because they don't like to be held down and made to swallow something against their will. My experience has been that, if I've tried the direct oral method, when I approach with the next dose, they know what I'm doing and run.
Much easier to mix it with food and no stress for your cat. I've never heard of medication that cannot be mixed with food so hope this works!

May 4, 2011
0

found this helpful
You have to be careful about giving liquid medications to cats. My mom has to give her cat a liquid medication every day for the rest of his life & the vet told her to be extremely careful & don't force it on him. Apparently, their nostrils are so close to their mouths, that if you force it on them & they get some in their nose, they can aspirate it into their lungs & get pneumonia, which could kill them!
I guess it can even happen if you force it down their throats & it goes down the wrong hole while they are struggling. Fortunately my mom's little devil is good enough to lick the spoon if she corners him in his bed & waits long enough!
Answer

this Question