I bought this detailed Egyptian style silver necklace. Well I found I can't wear plated or cheaper jewelry lately cuz I've gained weight and sweat so much. lol Well this summer I wore this piece a lot and it turned this black color along the top with lines through it. It says 926 made in Italy on it, but I can not get this black off.
Does this happen to me because of the sweat? Does this mean it's not real when this happens? And can I get it off? If not cuz I've tried cleaning it off, it seems to be in the metal not just a tarnish on the metal.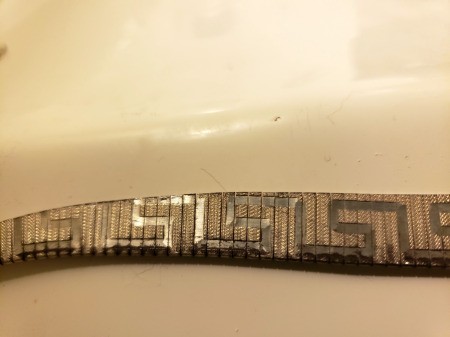 Please help!
October 16, 2019
0

found this helpful
I just use a very small amount of blue Dawn with warm water and rub it clean with my fingers, then dry with microfibre cloth
October 17, 2019
0

found this helpful
This could be silver plated and that is one reason it has truend like this. I have used baking soda and a tooth brush in the past to clean some of the tarnish off items like this. If this does not work the plating has been removed and it may not be possible to clean it again.
October 18, 2019
0

found this helpful
926 should be real sterling.
There are a number of markings and that is one (95, 925, 926, 928, Sterling, 95M, are just a few).
I learn from the place where I sell my silver for scrap that there are pieces that have the correct markings but are NOT sterling. This is fraud and it is quite common...more so in older pieces...but it can still happen today. This is why it is important to buy jewelry from reputable shops.
If it is real silver, a little silver polish should clean your piece up nicely. You can put a drop of the polish on an old SOFT toothbrush and see if that gets it from the crevices. If it doesn't work--I suggest taking it to a jewelry or scrap dealer (I am a huge fan of the Treasure Hunt chain) and have them test it for you. Treasure Hunt has a machine to test (so no scratch testing).
If it is real silver, it is not always inexpensive, but some jewelry stores will offer cleanings for you. They can also tell you what the true metal content is and then you can decide if you want a professional cleaning or not.
We did have one jewelry store in the mall that used to do "free" cleanings, but you had to be shopping while they did it and they were high pressure sales people. If you can walk away from a pitch, you can get the piece cleaned for free. I can't do that, but I have friends who can!
Post back with updates!