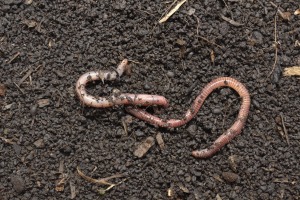 We like to go fishing, but worms have become very expensive. We have built our own worm bed outside, and it saved us from running to the store. We can dig our worms any time we want.
We took wood and made a bottomless box that sets on the ground. The box is about 10 to 12 inches tall, and as long and wide as you want it to be. We threw in some sticks, leaves, and soil.
We used soil from another area of the yard that already had worms in it, or you can buy worms to start. Then I added coffee grounds, including the filter, tea bags, and all of the green waste from my kitchen. Add a layer of soil over the layer of kitchen waste, and continue this, turning the pile as needed.
At first we saw regular earth worms, before long we were digging up big night crawlers. Also keep it moist, but not wet. We covered it with a piece of old wood to hold in the moisture. Now go fish!
By rae from Fulton, MO
Read More

Comments

Monica
Silver Post Medal for All Time! 297 Posts
Fill the worm box with pieces of corrugated cardboard, wet the chunks of scrap down good, let them stand for a couple of days, then put the worms in on top. The worms will burrow right down into the moist corrugations and live on the glue that's on the material.
Read More...

We live in Florida with many southern oaks and they have Spanish moss hanging from them. Can it be used for our worm container?
Answers

poehere
Bronze Post Medal for All Time! 105 Posts
October 9, 2019
0

found this helpful
You can use peat moss in a worm container and if peat moss is fine I do not see a problem to use the Spanish Moss in the container.

Pghgirl40
Bronze Feedback Medal for All Time! 196 Feedbacks
October 9, 2019
0

found this helpful
You can. I would not use it exclusively.

Ana
Bronze Post Medal for All Time! 140 Posts
October 9, 2019
0

found this helpful
It would work better if you could mix your moss with-aged compost,aged cow or horse manure,if not available peat moss and Spanish moss makes a great bed for worms!

October 9, 2019
0

found this helpful
I also live in Florida and have found that Spanish moss can be used in worm containers and also as mulch but it is most popular in craft projects.
I have found that it takes longer for Spanish moss to break down than peat and regular compost. I believe this is due to the thin black 'sting' inside the moss (you can scrape the outer coating and see this string).
If using very much I would suggest taking heavy scissors and cut your moss into smaller pieces so it does not make a string layer in your worm bed.
My daughter has a worm bed made after the directions on this site.
You might find it useful.
www.lcweekly.com/.../1733-the-wonderful-world-of-worms
Problem with handling Spanish moss:
Chiggers are a major problem if the Spanish Moss has been lying on the ground. I have never found Chiggers in my moss and I use it for mulch so not sure where the chiggers come from (they are not in hanging moss).
Spanish moss does not kill a tree or bush but it stops air and sunlight from getting to limbs and leaves so in actuality, it does kill the tree/bush (unless you thin it out and let light reach the leaves).

Judy
Gold Post Medal for All Time! 677 Posts
October 9, 2019
0

found this helpful
Use it as an addition to the other composting materials you use.
Answer

this Question

I am starting a worm farm, but I can't find the worms they say I need. The ones I need are not nightcrawlers or red wigglers. I am looking for another type more suited to Newfoundland, Canada. Thanks.
By marie from Newfoundland
Answers

April 28, 2010
0

found this helpful
Contact info@mainebait.com Good luck.
Answer

this Question