August 2, 2010
0

found this helpful
I have about the same area and leave the clippings on the grass. It acts as a fertilizer. If you have too much clippings you may want to attach an mulcher to the mower. That will cut up the clipings to very small pieces.
August 2, 2010
0

found this helpful
When the clippings turn brown, does it show on the lawn, or does it go under the grass pretty fast?
August 4, 2010
0

found this helpful
Use some of them in your compost bin (if you have one) Layer then with your uncooked kitchen waste.
August 4, 2010
0

found this helpful
Do you like animals? You could get a goose, which lays beautiful, edible eggs and she would be happy to eat the grass. Or some chickens, dry grass used for hay.
Or you could give it to a local farm to dry for hay and maybe they would give you something in barter, (eggs, vegetables, etc). Goose egg and chicken eggs in photo.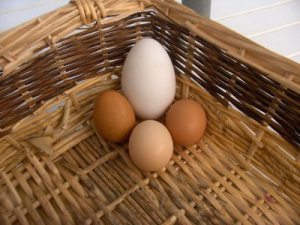 August 4, 2010
0

found this helpful
We don't use a bag with the mower every time we mow and that grass is left on the lawn as nutrition.
As suggested, make your own compost pile. Our small town has a recycling compost pile for leaves and grasses to be hauled to which then is mixed with the composting factors at the recycle center in making new dirt, that is free for people to come and pick up. The dirt is sterilized by the process used in composting big time.
My husband tried the 'put it in my garden' one time, cause he thought it was supposed to cut back weeds. Haha. He proceeded to start the weeds. Unless you have the perfect lawn and nothing icky growing in it, don't do that. I work hard in the gardens to be weed and grass free. Seeds of dandelion and other weeds can lay dormant in the soil for years then POP up.