By Vickie (Guest Post)
October 15, 2007
0

found this helpful
This is easy and delicious. Score the breasts first and render the fat just like the directions say. Use the duck fat to brown vehetables/potatoes. It's delicious.
Maple Glazed Duck Breast with Gingered Peach Chutney
Serves: 2
2 (7.5 ounce) Maple Leaf Farms Boneless Duck Breast Filets, thawed if frozen
&frac; teaspoon salt
&frac; teaspoon freshly ground pepper
1 &frac; tablespoon pure maple syrup
2/3 cup prepared peach or mango chutney
1 teaspoon freshly ground ginger root
Heat oven to 375 degrees. Score t he skin of the duck breast taking care not to puncture the meat. Heat an oven-proof skillet over medium heat until hot. Place duck in skillet duck sides down. Sprinkle salt and pepper lightly over duck. Cook eight or nine minutes, or until skin is crispy and golden brown.
Turn duck; continue cooking three minutes. Transfer duck to a plate; set aside. Carefully pour off drippings from skillet into a jar with a tight fitting lid. Refrigerate duck drippings for another use. Spread syrup over meaty sides of duck and return to skillet skin side up. Transfer skillet to oven. Bake eight to 10 minutes or until internal temperature of duck reaches 155 degrees. Transfer duck to carving board; cover with foil and let stand five minutes, (Internal temperature of duck will rise to 160 degrees).
Combine chutney and ginger in a microwave-safe bowl or small sauce pan; serve at room temperature or heat in microwave oven or over medium heat until warm. Carve duck crosswise into thin slices. Transfer to warm serving plates; serve with chutney.
________________________________________
ENJOY!
October 15, 2007
0

found this helpful
Put the following in your browser:
www.backwoodsbound.com
Follow the links to "recipes" then to "duck" -- plenty of recipes!
October 15, 2007
0

found this helpful
The most easy and flavourful technique I have ever used for cooking duck is as follows: If not already done, pluck and clean the duck. Wash out the cavity throughly. Stuff with whole unpeeled oranges and lace shut.
Cook as u would for turkey, based on weight. When the duck is done, remove and discard the oranges. Most of the fat in the duck will be in those oranges! It will now have a lovely orange flavour and scent and tastes not unlike duck l'orange without the sweet sticky sauce.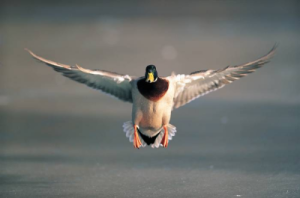 October 16, 2007
0

found this helpful
Go to allrecipes.com, and then add it to your Favorites list. Very useful! Enjoy, duck is tastey.