February 12, 2010
0

found this helpful
Best Answer
This past Fall I wrapped it in clear plastic and then put burlap over that and tied it with twine then put rock around it to hold it all down, we'll see if it survives this year. I got my thyme to survive over the winter of 2008 so I'm hoping this will work for the rosemary. In Michigan You have to come up with inventions if you want to keep plants that don't normally survive.
In the picture:
Garlic is in the big bed covered with plastic, garlic chives are under the burlap in the foreground, Thyme is under the square one toward the back and rosemary is in the area between the sage and the little statue.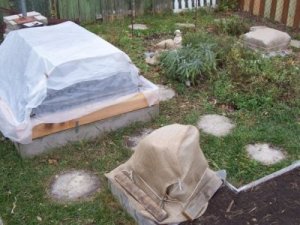 May 2, 2009
0

found this helpful
We use to live in Maryland and I had a Rosemary bush outside in the corner of our patio covered porch area. It thrived well there. It was in the shade of the hot summer and protected somewhat in the winter. It got snowed on and survived well. If the temperature was going down in the teens or below I would cover it with some heavy plastic. I had it for ten years and it was quite large.
I would water it on the warmer days but not too much for the snow provided enough moisture. I would trim off the dead in the branches in the spring. We now live in tennessee and I have another bush up against the house in the shade by the back porch steps in a corner. It has been there for 4 years and it is really pretty and a medium size bush. I have it in a large pot.
May 2, 2009
0

found this helpful
I dug mine up and potted it last fall. It's looking good and blooming. I'll plant it back outside soon.
May 2, 2009
0

found this helpful
I too live in Michigan (zone 5) where rosemary does not survive winter. I brought inside a small pot last fall and it lasted until I gave it away Mar.
1, when I went to Florida. I did learn something here tonight; that is, rosemary blossoms. Will look for that variety this year.
May 7, 2009
0

found this helpful
Well I live in the south, I have brought the little plants from Brookshire and Krogers grocery stores, I follow the direction but they still die. I love these little plants, but I just can not get them to grow.
July 7, 2009
0

found this helpful
"They should only be used fresh"?
I dry mine every year, not sure what you mean?