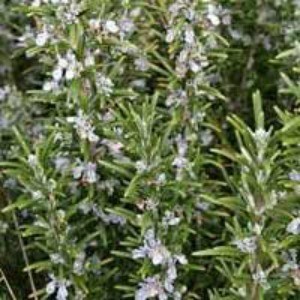 Botanical Name:
Rosmarinus officinalis
Common names:
Rosemary
Description:
Rosemary is an important culinary herb and should be included in every herb garden. Besides Rosemary's many culinary and medicinal properties and its many household uses, its trusses of blue flowers nestled among pine needle-like leaves are an attractive ornamental shrub for perennial borders and beds. Rosemary grows tall and erect or bushy and compact depending on the variety.
Life Cycle:
tender perennial
Exposure:
full sun or partial shade
Cultivation:
Start plants with cuttings taken from non-flowering branches in the early summer or layer and relocate seedlings from established plants. To sow from seed, select a well-protected site with loamy, well-drained soil and full sun exposure. Keep plants compact in size with regular trimming. Rosemary is a long-lived perennial in warmer climates. Northern gardeners can grow it in containers that can be easily brought indoors in the winter.
Propagation:
cuttings
Parts Used:
leaves
Harvesting and Storage:
Rosemary leaves can be harvested anytime. They should only be used fresh, so harvest only what you can use at any one time.
Medicinal Uses:
digestive problems; muscle relaxant; diuretic; menstrual cramps; nervousness; memory stimulant
Culinary Uses
bouquet garnish; roasted meats; potatoes; vinegars
Other Uses:
skin care; hair care; soap; posies, wreaths and crafts; potpourri