I took this fall foliage reflecting in a pond during our family trip to a place of worship.
By rajee from Queens, NY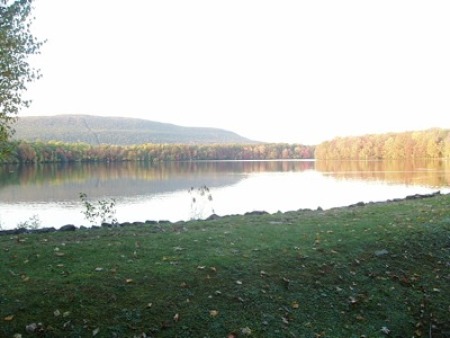 Add your voice! Click below to comment. ThriftyFun is powered by your wisdom!
February 28, 2011
0

found this helpful
I'm lucky enough to live next to woods and this photo is taken from my window where I sit with my laptop every morning. Just wanted to share!
By Robynn
" hspace="10">
" hspace="10">
Answers:
Scenery: Trees In Autumn
I'm so lucky to have lived for about 2 years in a spot that looked very much like your woods here. We were in North Carolina, and right smack in the middle of the Great Smoky Mountains. I carry those mental pictures in my heart, and have only to close my eyes.

I'm so glad you have it to enjoy now. Soak up those memories and they'll last you forever.

Thank you for sharing with us.
(09/30/2010)

By PookaRina
Scenery: Trees In Autumn
What a beautiful picture! Thanks for sharing! (09/30/2010)

By MzScarlett
Scenery: Trees In Autumn
Beautiful and colourful (Australian spelling). We have mostly Eucalyptus to look at out our windows,Where are you and would you know the name of some of these lovely trees please? (10/01/2010)

By Ausjulie
Scenery: Trees In Autumn
Robin, as Pookarina said, store those beautiful memories in your mind and heart. I can't see the true colors of fall anymore, but the scent brings back such vivid memories. Thanks, and thumbs up. (10/01/2010)

By JustPlainJo
Scenery: Trees In Autumn
Simply gorgeous. Mother Nature in her Autumn splendor! (10/03/2010)

By Maryeileen
September 30, 2010
0

found this helpful
These are my Goodbye to Autumn Trees pictures.

Joseph Raglione

Answers:
Goodbye to Autumn Trees
Great pictures, you didn't say where you are from. I grew up in Ontario and have lived in Alberta for the last 20 years. I sure miss the beautiful colors of the trees in the fall. In Alberta you only get yellow! (11/14/2007)

By PICO
Goodbye to Autumn Trees
Hi Pico! I am from Laval, Quebec, and yes we do have beautiful Autumn and Spring seasons where the leaves change colors. In the Fall, thousands of Quebec citizens make a point of visiting the nearby Laurentian Mountains to see the leaves change, but I have some nice trees in my own back yard. My house is only a few feet away from the Trees you see in the pictures. Thanks for writing!
P.S. The West has magnificent panoramic scenery, you just have to look harder! (11/14/2007)

By human4us
Goodbye to Autumn Trees
Just beautiful! We don't gorgeous autumns like that here in the South, thanks for sharing! (11/14/2007)

Goodbye to Autumn Trees
Very pretty (11/17/2007)

By meoowmom