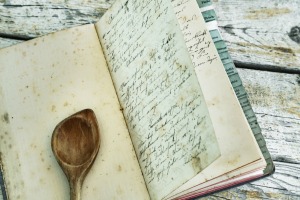 When the family sits down to a favorite recipe, there's a special love there. When the recipe belongs to a departed grandparent, the love multiplies.
One year I took all of my husband's mother's favorite recipes, my mother's favorite recipes and my father's favorite recipes (Dad had a number that were special just to him) and typed them on my computer. Then I printed off each recipe and put them in a 3-ring binder. I put sections in the cookbook under each grandparent to make it easy to find special recipes. I titled this cookbook "Heritage Cookbook Made Special for (and I inserted one of my kids' names)".
Now each child has a cookbook with her name on the front. When they miss one of their grandparents, they can create a favorite recipe and have Grandma or Grandpa for dinner. The books weren't expensive to make (unless you figure in the time). Each of my four girls has treasured her cookbook above any other present I've given them over the years.
Because my girls treasure their cookbooks so much, I strongly encourage you to save all the family recipes before they are lost forever.
By Bobbie from Mesa, AZ
Read More

Comments