I need assistance with furniture placement as my living room has a corner fireplace and weird window layouts. Please provide advice on how to arrange the furniture. The room is used as an informal family room where TV watching and socializing occurs.
Christine from Knightdale, NC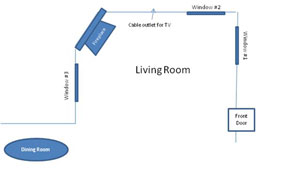 Answers:
Help with Furniture Placement
If there's any way you could hang a flat-screen TV above the fireplace, it would make your placement a lot easier. Maybe it's time to splurge on one! Then I'd arrange a grouping of chairs/recliners facing the TV/fireplace. If you have a love seat, use that directly in front of the fireplace (diagonal in the room), with chairs on either side. Don't be afraid to skew the furniture placement. I think it would look a lot better than squaring things off. Place an area rug on the diagonal, too. No matter what you do, a full-sized couch just won't look right in this space, that's for sure.
The corner of windows would make a lovely reading area. Just one chair, a small side table, maybe a small plush rug, and a lamp. The idea about HGTV's room planner is a great one! I do the same thing, but with graph paper. I graph out the room dimensions, then use the same size scale to draw my furniture on a separate sheet. I cut out the furniture and move it around in the room to my liking. It's fun! (04/08/2008)
By Katy
Help with Furniture Placement
I can't help anyone with their furniture placement since I have many fetishes. One is that I don't like couches and chairs backed up to a window. I want to be able to see the fireplace and look out the window from any seating area in the room. Not a great deal of help I know but I view furniture placement as a very personal thing. If someone comes to your house you want them to feel they have been someplace, your place. (04/08/2008)

By Marty Dick
Help with Furniture Placement
I've had 2 houses that had the fireplace in the corner. Matter of fact, the house I'm in now is one of them. Looking at your floor plan but not knowing the size, this is how I would place the furniture.
1. By windows 1 and 2, I would put a round table (like a game table), with 2 chairs (in the corner).
2. I don't know if you have an entertainment center or if there is a niche for your TV, but I would keep the TV where the outlet is.
3. I have a sectional couch that is 2 pieces and is rounded. I have this placed directly in front of the TV.
4. Where the wall meets the dining room, you can put a small desk and chair.

The best thing to do though, take measurements and put them on your drawing. When you go to dept. stores, model homes, home improvement centers etc. you will be able to better visualize placement.
(04/14/2008)
By Laurie
Help with Furniture Placement
I would set your couch in the middle with its back facing the front door, kind of using it as a divider. The TV between the fireplace and window, then go from there. I have a corner fireplace too and that is what I did with my couch. My dining room and living room is one big room, so I divided it up with my couch. What would be nice since your front door would be behind your couch, is you could put a sofa table up against the back of your couch and display family photos. Good Luck (04/18/2008)