I need help decorating my family room. The dimensions are 17 x 15. On one side of the room along the 17 foot wall we have a 2.5 foot door opening that swings out. On the opposite wall (17 ft) we have a 6 ft opening without out a door. Along one of the 15 foot walls we have a 34 inch window and along the opposite side (15 ft) there isn't any wall separating this room from the family dining area.
We want to provide comfortable seating for 6 that is easy to maintain, i.e. low dusting maintenance and durable stain hiding colors/fabrics (we have 2 boys.) Everything in the picture (except TV) goes!
How can we configure this room? The door openings are wonderful in providing a feeling of openness and light, but are really tough to decorate around.
Thank you for your help!
Lorraine
By Lorraine from Scarsdale, NY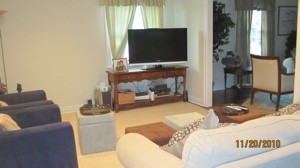 Add your voice! Click below to answer. ThriftyFun is powered by your wisdom!

November 24, 2010
0

found this helpful
Some ideas for thought! First of all, I'd think about avoiding any over sized, over stuffed couches, chairs, love seats. Of course they need to be comfortable, but the extra bulk makes any room look smaller. A three person couch, a two person love seat and an upholstered side chair would seat six, and although I don't have any (yet) I've heard a lot of good things about the durability and simpler cleaning with the microfiber type upholstery for these items.
You might try putting the couch in front of the wide opening to the dining area (leaving plenty of walk around space, as well - as long as the couch doesn't have a high back, you will keep that open flow feeling between the rooms.) Add a love seat to the right and another chair to the left, then plant the TV on the wall opposite the couch. (It drives me nuts that the TV decorators always want to hide the TV, especially if you enjoy watching TV!) Place a mid to small size coffee table that those sitting on the couch or love seat could use and a small end table next to the lone chair for a nice family room area.
If you have extra wall space (and want to keep the dusting to a minimum) add a few shelves (shelves, not book cases) for decorative accent pieces. An area rug, anchored under and in front of the couch/love seat/single chair sitting area will help define the space.
As far as colors go, go with what you love that works with the rest of your house. I'd keep the seating all in the same color family and add accent colors with throws, pillows and the area rug. Darker colors will help hide dirt better, unless you get a white haired dog or cat, but the best choice is to start with fabrics and textures that can be easily and cleaned affordably, as dirt is dirt is dirt and will eventually need to be evicted! :-)
Does this help at all? Good luck. Iit all seems a fun project. Hope your family enjoys!

Allison
Bronze Feedback Medal for All Time! 231 Feedbacks
November 25, 2010
0

found this helpful
I would move the TV to the wall on the left of where it is now. You'll free up floor space. Then put a corner storage unit (I realize it's narrow, but every little bit helps) in that corner where the TV is now. The area formed by the 9'9 and 9'7 walls could be its own conversation area with an L shaped sectional, but leave it open to movement from the kitchen area.

November 27, 2010
0

found this helpful
I love to decorate, so will try to help you. I agree that microfiber is a good idea. Put a comfy chair where the TV currently is. The TV will have to go along one of the 17 foot walls. I don't know exactly where your door is, so hard to suggest for sure, but could the TV go along the approx. 9 foot wall of the 17 foot wall with the 6 foot opening? We wall-mounted our TV and it freed up some space, that might work for you as well.
Get a couch, comfy chair, and love seat or a couch, and three chairs/ recliners. A general rule of thumb is hard, soft, hard, soft-meaning don't have two end tables side-by-side ,etc. Separate by having an end table, chair, bookcase, chair, end table, couch, get what I'm saying? Also, vary the heights of furnishings for eye interest. Having an active, messy boy myself, I recommend shades of browns. I have accented my living room nicely with reds, golds, greens.
By the way, I don't necessarily recommend a coffee table as they take up a lot of space.
Good luck and have fun!
Add your voice! Click below to answer. ThriftyFun is powered by your wisdom!
I have a living room with a corner fireplace that I am trying to buy new furniture for. I would like to maximize the space of the room as well as have a good space for seating to watch TV and entertain. The TV is mounted above the fireplace and the room is 14' x 19'. I need help with what kind of furniture to buy and where to place it. Thanks!
By Jenn from Hendersonville, TN

Answers:
Help With Furniture Placement
I recommend sticking with a loveseat and two complimentary chairs (which are identical). I would place the love seat parallel to the fireplace wall facing fireplace and TV, and place chairs perpendicular to it on either side. I like the idea of a small writing desk on the half wall opposite the fireplace. Keep it simple and add some nice larger accent pieces of art. I've seen friends use about a dozen frames all painted the same color that literally had nothing inside them. It was cool. Also, painting mismatched frames in the same color with photos in all black and white is a neat effect. But, you asked about the furniture, didn't you?

Have fun! And, never pay full price (or use credit) for furniture! (03/29/2009)

Help With Furniture Placement
Being something of an old fashioned fart of a man, I recommend buying a pad of graph paper. Invest in a cheap tape measure if you don't already have one. Draw a floor plan to scale. Keep it simple like 1 inch equals 1 foot. Then, make an elevation drawing of each wall (straight on view) again to scale. Include all doors, windows, electrical outlets, built in items like the fireplace,knee walls, serving windows, bookcases, etc.
Go to your favorite furniture and electronics vendors and take measurements of the pieces you really like. Make little paper or cardboard cutouts to scale of these items. You can then "play" with all the many possibilities. This kept my wife amused for hours! Then, when we ordered the furniture there was little to do about where things went. We took dimensions on forty pieces of furniture and eliminated the items that were too klunky or, just didn't fit into the flow of the room. The whole drawing and cutting out shapes took me about 90 minutes. That 90 minutes saved me several compressed spinal discs and a hernia moving things to the Mrs' satisfaction! V/R. Tom (03/29/2009)

By Tom D.
I need assistance with furniture placement as my living room has a corner fireplace and weird window layouts. Please provide advice on how to arrange the furniture. The room is used as an informal family room where TV watching and socializing occurs.
Christine from Knightdale, NC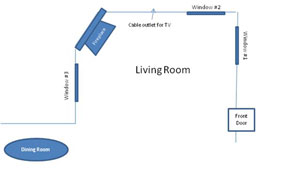 Answers:
Help with Furniture Placement
If there's any way you could hang a flat-screen TV above the fireplace, it would make your placement a lot easier. Maybe it's time to splurge on one! Then I'd arrange a grouping of chairs/recliners facing the TV/fireplace. If you have a love seat, use that directly in front of the fireplace (diagonal in the room), with chairs on either side.
Don't be afraid to skew the furniture placement. I think it would look a lot better than squaring things off. Place an area rug on the diagonal, too. No matter what you do, a full-sized couch just won't look right in this space, that's for sure.
The corner of windows would make a lovely reading area. Just one chair, a small side table, maybe a small plush rug, and a lamp. The idea about HGTV's room planner is a great one! I do the same thing, but with graph paper. I graph out the room dimensions, then use the same size scale to draw my furniture on a separate sheet. I cut out the furniture and move it around in the room to my liking. It's fun! (04/08/2008)
By Katy
Help with Furniture Placement
I can't help anyone with their furniture placement since I have many fetishes. One is that I don't like couches and chairs backed up to a window. I want to be able to see the fireplace and look out the window from any seating area in the room. Not a great deal of help I know but I view furniture placement as a very personal thing. If someone comes to your house you want them to feel they have been someplace, your place. (04/08/2008)
By Marty Dick
Help with Furniture Placement
I've had 2 houses that had the fireplace in the corner. Matter of fact, the house I'm in now is one of them. Looking at your floor plan but not knowing the size, this is how I would place the furniture.
1. By windows 1 and 2, I would put a round table (like a game table), with 2 chairs (in the corner).
2. I don't know if you have an entertainment center or if there is a niche for your TV, but I would keep the TV where the outlet is.
3. I have a sectional couch that is 2 pieces and is rounded. I have this placed directly in front of the TV.
4. Where the wall meets the dining room, you can put a small desk and chair.

The best thing to do though, take measurements and put them on your drawing. When you go to dept. stores, model homes, home improvement centers etc. you will be able to better visualize placement.
(04/14/2008)
By Laurie
Help with Furniture Placement
I would set your couch in the middle with its back facing the front door, kind of using it as a divider. The TV between the fireplace and window, then go from there. I have a corner fireplace too and that is what I did with my couch. My dining room and living room is one big room, so I divided it up with my couch. What would be nice since your front door would be behind your couch, is you could put a sofa table up against the back of your couch and display family photos. Good Luck (04/18/2008)