Pearl is a 16 month old Standard Poodle. I got her about a year ago. My Doberman, Venus got bitten by a water moccasin in my backyard. I rushed her to the vet, and there I saw on the bulletin board an ad for a litter of standard poodle pups.
I called the number when I got home, not sure if the doberman would pull through her medical emergency. I went to look at the last puppy from the litter, not sure it was good timing to get a puppy.
The next day the vet called and said Venus (the doberman) could go home. I was thrilled! A few days later when I was sure that Venus would be ok, I went back to look at Pearl again and brought her home with me.
Pearl loves to play with all her stuffed animals and also her sister, Venus. Pearl was born on Pearl Harbor Day 2009, and after much deliberation we decided that the name Black Pearl was ideal for our new baby.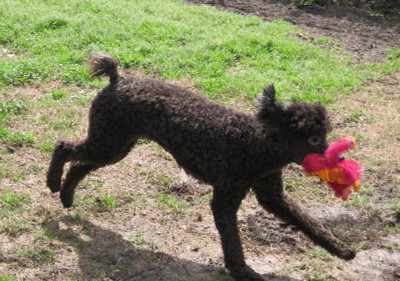 By Leslie