I'd never made a lemon meringue pie, but after seeing contestants bake some on a cooking show on TV, I wanted to try one out. Since it's just me and my husband in this house, I made mini versions. They are so delicious and so small, they're practically guilt-free!
Ingredients:
Crust:
2/3 cup all-purpose flour
1/4 tsp. salt
1 Tbsp. shortening
2 Tbsp. cold butter
2 tsp. cold water
Filling:
1/3 cup sugar
1 Tbsp. cornstarch
1/8 tsp. salt
1/2 cup cold water
1 egg yolk, beaten
3 Tbsp. lemon juice
1 Tbsp. lemon zest
1 Tbsp. butter
Meringue:
1 egg white
1/8 tsp. cream of tartar
2 Tbsp. sugar
Directions:
Combine flour and salt; cut in shortening and butter until crumbly. Slowly add water, tossing with a fork until dough forms a ball. Divide into 4 and roll out into circles. Transfer to cupcake tin. Press dough up sides of 4 greased cups. Bake at 425 degrees F for 7-10 minutes or until golden brown.
In a saucepan, combine sugar, cornstarch, and salt. Stir in cold water until smooth. Cook and stir over medium heat until thickened and bubbly. Reduce heat; cook and stir 2 more minutes. Remove from the heat. Stir half of hot filling into egg yolk, and return all to the pan. Bring to a gentle boil; cook and stir for 2 minutes. Remove from the heat. Stir in lemon juice, lemon zest, and butter. Pour into pastry shells.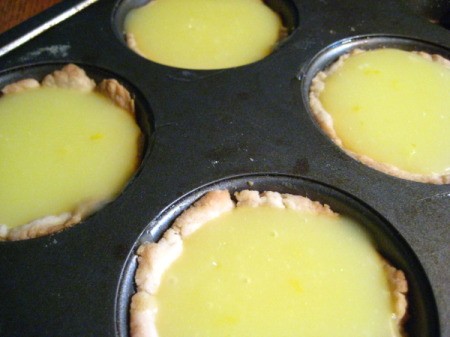 In a clean bowl, beat egg white and cream of tartar on medium speed until soft peaks form. Beat in sugar. Spread evenly over filling, sealing edges to crust. Bake at 350 degrees F for 15-20 minutes or until meringue is golden brown. Cool on a wire rack for 1 hour. Refrigerate for at least 3 hours before serving.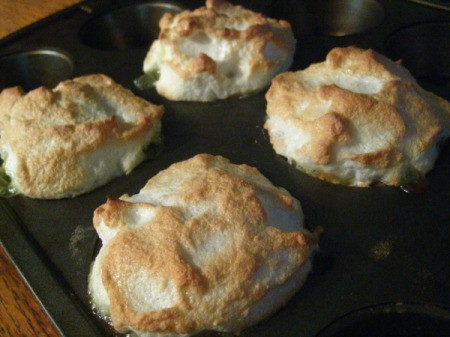 By attosa from Los Angeles, CA