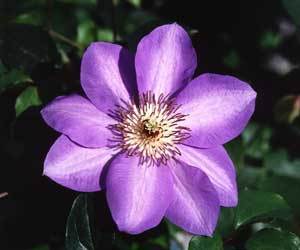 Botanical Name:
Clematis
Life Cycle:
perennial climber
Planting Time:
spring or fall
Height:
height depends on support (12" to 24"+)
Exposure:
full sun to light, afternoon shade
Soil:
average well-drained soil
Hardiness:
zones 3 to 9
Bloom Time:
mid to late summer
Flower:
red, pink, yellow, purple, blue and white
Foliage:
green leaves on vine
Propagation:
cuttings
Suggested Use:
trellises, lampposts, mailboxes, wood or metal pillars, arbors and fences
Growing Hints:
Prepare site in advance by digging a deep, wide hole (one foot deep by 18 inches across for most potted transplants) and add in some compost. Set the Clematis into the center of the hole and cover with soil so that the crown of the roots is 3 inches below the surface. Water thoroughly and cover with 2-3 inches of mulch to keep their roots cool and moist. Plant Clematis in a location where the soil around their roots can remain shaded by other plants while they climb toward the sun. They like to keep their "heads in the sun and their feet in the shade."
Interesting Facts:
Clematis do not wrap their stems around a support while they climb. Instead, their leaf stems reach out for objects to wrap around-preferably structures made from wood or metal pieces less than 1 inch across.