Use an old recycled chair from the junk to make into a planter for flowers to set in the garden.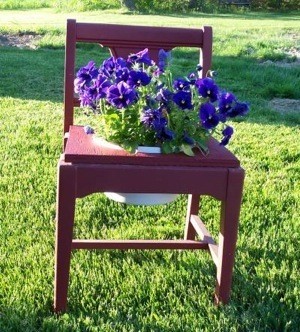 Approximate Time: 1 1/2 hours.
Supplies:
chair
4 screws
saw
paint
screwdriver
pot with flowers
Instructions:
Get an old chair to use. Take the seat off and use as a pattern to cut one out of hard wood to withstand the weather.
Before planting flowers in the pot, turn it upside down and center in the middle of the new cut out seat. Draw around the pot. Now draw another line about 1/2 inches inside that hole. This will be your cutting line. If you use the first one your pot will fall through. It needs to be a bit smaller then the top of the pot. A roto zip tool or jig saw works nice.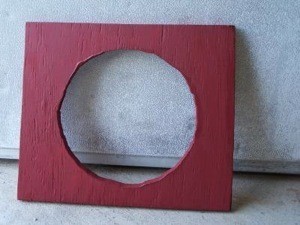 Paint the chair and seat. You may want to paint or spray it with polyurethane to protect it. You may want to keep your chair old and rustic and not paint it at all. Screw the seat on after it dries.
Plant the flowers in the pot and place the pot in the hole. I used a hanging flower pot I got for Mother's Day but removed the hangers.
All ready to set in the garden and look at when you are out there working hard. It'll make your work seem more worthwhile.
By Little Suzy from Millbury, Oh