February 22, 2008
0

found this helpful
A cool key chain (also made from denim)
A portable chess and checkers set made from fabric and crafty pieces
A bug house/holder/carrier
A starter tool kit (small hammer, small screwdriver, etc.)
A treasure box made from a decoupaged cigar box

Marty Dick
Bronze Post Medal for All Time! 169 Posts
February 22, 2008
0

found this helpful
Make a denim wallet. You can take a bi fold and make a pattern. Make little pockets for library cards, etc. I made a wallet for my grand daughter out of ladybug fabric. I cut each piece large enough to be folded in half for sturdiness. When I got all the pieces cut I put wonder under on each one and folded in half and ironed it. Just use your imagination to put it together. I made a little tab to close with velcro.
Use bias tape around the finished edge to cover raw seams. I used black 7/8 inch.. I made hers with a little change purse and 2 card pockets and of course a place for dollars. I used an old wallet of DH's to make the pattern out of printer paper. Measure a library or credit card forthe pocket pieces.. It was just one step at a time figuring as I went along.

Julie
Bronze Feedback Medal for All Time! 149 Feedbacks
February 22, 2008
0

found this helpful
since your talking about fabric related items to make. you could make a fabric tool belt with slots in it to house the boys tools. or fabric crayon rolls made from a long square pice fabric add another piece fabric half way up one side and put slots in it for the crayons add attached ribbon to one side so you roll it up and tie it.
By Darlene (Guest Post)
February 22, 2008
0

found this helpful
I usually try to make at least one Christmas gift for each of my six grandchildren. This past Christmas I made my oldest grandson (11) a pair of slippers. I made pillows for all of them for when they lay on the floor and watch movies.
I will listen to conversations during the year to get ideas. Sometimes I will ask the child directly. My daughter tells me they look forward to the gifts I make. I also look for ideas on craft websites on the internet.
If any of them enjoy cooking, you could make a book of your favorite recipes for them. Or you could make gifts in jars for them. (cookie and muffin mixes are good ones). Find out what their favorite animals are and make stuffed animals for them. (or if you crochet or knit, you could do that too) Blankets or quilts are good ideas too. I hope this helps.

Cyinda
Bronze Post Medal for All Time! 213 Posts
February 22, 2008
0

found this helpful
Boys ARE harder to make & buy for...At least I think so! ... Here's several ideas of things you can make WITH, or FOR them: Duct Tape Wallets... (you can buy many colors of duct tape at $1 stores) I also recently sewed a set of long-johns for my son for Christmas... I also crocheted them a hat & made fingerless gloves for them to.... For another idea: See my new post about making a magnetic bulletin board, I know any child (boy OR girl) would love one of these:
www.thriftyfun.com/tf55907754.tip.html
---> Also, if they have a special thing they are "into", for example: dinosaurs, airplanes, trains, race cars, horses, or space travel, you could make a hanging mobile with one of these themes for them. Most kids love things that move & hang from the ceiling! Plus, the great thing is, mobiles don't take up any shelf or floor space!

February 23, 2008
0

found this helpful
From Fabric:
A drawstring bag or small tote bag with fun fabric - bugs, dinosaurs, critters, tools, trucks - all those fabrics are out tehre.
A pillowcase.
An over the door organizer with little pockets for matchbox cars and the like (use vinyl for the pockets)
A polarfleece blanket - pick fleece that fits their interests - lots of boyish patterns out there.
Buy printed "town map" fabric (Wal Mart has it) to make a play mat for their little cars. Make a matching bag to put it all in and it is great for visiting.

February 24, 2008
0

found this helpful
Pillowcases are great! I love making them and they are so easy. You can use various colors or prints to match their interests. OR...You could use a ready-made white pillowcase and applique or paint a design.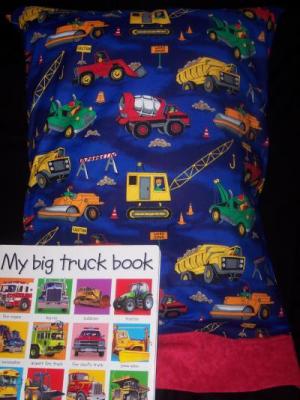 February 25, 2008
0

found this helpful
How about a mini denium backpack? They could go hiking or camp in the backyard and carry "supplies" in the packs. Not much different from a purse with a top flap except you add the shoulder straps to the sides.