Living in an apartment or condominium in the city doesn't mean you can't enjoy the pleasures of gardening. As long as you have a small balcony or patio and access to an adequate amount of light, you can easily create a modest-sized garden. Even if you only have a few square feet of space, if you use it efficiently you can double-even triple-the amount of room you have available for gardening.
Utilize Your Wall Space
One of the best ways to maximize a small balcony or patio for gardening is to take advantage of your wall space. You can only afford so much floor space for pots and urns if you plan to include patio furniture into the mix, but even the tiniest balcony or terrace can offer at least a foot or two of wall space. Another advantage to using wall space is that walls are often protected from direct sunlight and damaging winds, which is a bonus if you're growing more delicate types of plants.
Trellises: Using trellises is another easy way to utilize space. They come in all shapes and sizes, and with just a few small branches and some wire, you can assemble one yourself. Metal trellises offer a more formal look, natural wood trellises keep things looking rustic and trellises painted white will really set off the color of plants and flowers.
Small trellises can be placed directly into individual pots to support climbing flowers and vegetables, but don't forget that plants that like to climb are just as happy trailing. A large trellis mounted along a wall can be fitted with several rings that can accommodate multiple trailing plants.
Hooks, Brackets and Wall-Mounted Urns: If you don't have enough wall space for a trellis, there are endless flat-backed pots, pockets and urns designed specifically to be mounted on walls. Hooks and brackets designed to hold several pots need not be fancy, but if you only have room for one or two, consider buying something wrought-iron or whimsical that becomes part of your garden design.
Shelves: If you are permitted to mount them, shelving units are another wonderful way to utilize wall space. Adjustable units mounted from the floor to the ceiling are a convenient way to accommodate different sizes of pots. Stagger floating shelves along the span of an entire wall for a dramatic effect.
Other Space Savers
Poles: PVC pipe comes in a variety of lengths and diameters and it's usually sold by the foot at hardware stores so you can get the exact length you need. By drilling a few holes along the length of the pipe and inserting pieces of wooden dowels, you can make yourself a cheap and effective pole-ladder for climbing plants.
Lattice: Landlord or Building Association doesn't allow you to drill into the side of your building? No problem. Lattice provides a really great solution. Cut three or four pieces of lattice as tall as you like and fasten them together with door hinges to create a self-standing screen. This will not only offer you some privacy, but it will allow you to hang multiple hooks for holding multiple pots.
Arbors and Arches: Imagine sitting under a canopy of lush green vines in your own secret garden. Arbors and arches are wonderful ways to create extra gardening space on a balcony or terrace. Train vines to climb over the top or hang several pots from the sides. Place a patio seating underneath for a cozy place to read and relax.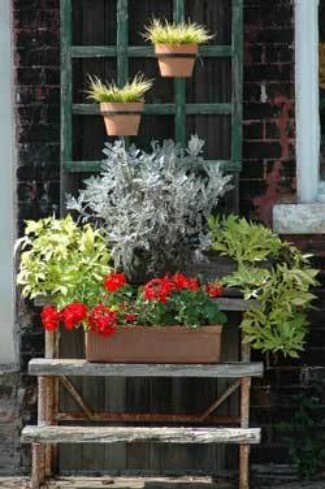 Columns From Cages: Cut yourself a circular, 2 foot piece of plywood to use for a base (don't forget to drill drainage holes) and staple square grid chicken fence around the base to create a column for plants. Line the inside of the "cage" with heavy plastic and fill it up with a growing medium. Make sure to elevate the column on bricks or boards to allow for drainage. To plant, simply cut slits up and down the sides of the column between grids in the fence, create a hole in the soil with your hand and pop plants. Don't forget to plant the top.
Layering with Ladders and Stands: Save space by "layering" plants or placing them in tiers. Group some pots on the ground and elevate others on bricks, concrete blocks, milk crates or overturned unused pots. This "step-up" effect is a space-saving way to create a lush garden in a corner or along an unused wall.
Ledges and Railings: Window boxes and planters are a great way to utilize ledges and railings and balconies and patios. Most home and garden centers offer a variety of brackets that enable you to suspend planters and flower pots from deck and balcony railings. Double your growing space by hanging brackets so that plants are displayed on both the outside and the inside of your railing. Create a garland of flowers by training peas, beans and climbing flowers like clematis and morning glory to spread horizontally along railings and ledges.
Hanging Baskets: If one hanging basket is good, than three are even better. Try using a 3-tiered wire produce basket as a space-saving hanging basket. Line the baskets with dried moss from a craft store (soak it a first to rejuvenate it) and fill each tier with a light potting soil. Don't forget to water the plants in your hanging basket daily.