April 18, 2009
0

found this helpful
When my son (now 29) was little, we put his marbles into a clear acryllic box that was divided into sections with an attached snap close lid. I have no idea what we paid for it as it has been many years ago. As I was typing this, I remembered that the box and marbles are still in a drawer of a chest in his bedroom here at my house. I have sent a photo for you to see it. Hope this helps. It surely saved me from having to chase marbles everywhere.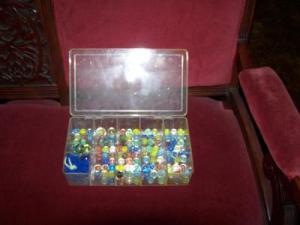 April 19, 2009
0

found this helpful
HERE'S SOME IDEAS:
1) If I were a child, I would love to have a tiny chest of drawers that they sell at hardware stores to put nuts, bolts & screws in. It would be s much fun too organize them by color!
2) Small clear plastic Fishing tackle plastic boxes. These are also sold for embroidery floss or for beads. These are often sold at dollar stores.
3) Large Tackle Boxes (for fishing, they have little drawers & compartments)
4) As far as storage, when my kids were younger I crotched a small bag out of doily cotton as a marble bag. But you could also sew or buy a fabric bag. You can usually find cotton or velvet drawstring bags where they sell wine in grocery stores. These are wine "gift bags". They also sell small organdy (clear) fabric bags for wedding supplies, jewelry stores or at paper or craft stores if you don't want to make your own.
5) Also any empty vitamin or an aspirin bottle would work as well as a clear plastic water bottle with a lid.
6) Clear plastic flexible baseball card or coin holders. These go inside a 3 ring binder, they come in different sizes (for stamps, coins or cards)
7) They also have coin "tubes" & you can find them in a coins store or sports memorability store or online.
8) Another idea would be a wooden slat with holes drilled in the bottom for the marbles to sit on... You might buy a wood or cardboard dime holder & set the marbles in it all lined up.
9) Have you seen those tiny clear plastic boxes? Either square or round. I would look at a bead store for clear display bottles.
10) Cardboard egg box with plastic Easter eggs full of marbles.
================================================================
HERE'S SOME PICTURES:
SMALL PART DRAWERS
www.technologylk.com/.../16-Drawer-Small-Parts-Cabinet-AM10116...
BEAD ORGANIZERS: (very top one has nice ideas)
www.jewelrysupply.com/.../bead_storage_containers.html
www.shipwreckbeads.com/catalog/Beading-Tools-and-Accessories/Storage-Products/
www.jewelrybeadsandfindings.com/tools-beadorganizers.html?gclid=CPHL9vLI_JkCFSMSagodpRhJFg
DISPLAY BOXES:
www.jpscorner.com/
EMBROIDERY FLOSS CONTAINERS:
www.craftamerica.com/storage_containers.htm
VINYL COIN PAGES:
www.ohcoins.com/.../processfeed.aspx?sfid=187793&i=246460090...
www.mintproducts.com/.../Vinyl-Coin-Pages.html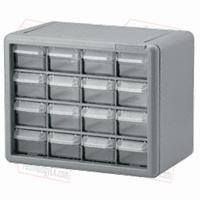 April 19, 2009
0

found this helpful
I would think in the lines of what theme the child's room is or what the child likes and find objects like that to keep them in so they can be seen in those items but easily reached to play with. and you mentioned plastic> i too think the containers should be plastic which is safer for the child and not as heavy to get each time. some ideas:
Boys:
empty Gatorade bottles
old plastic baseball bats (just poke a hole in the end and fill then lean up against a corner)
toy dump trucks or wagons
tin cans and write words on them to match there room decor example( go team go or touch down)
old cowboy boots filled with them for a western theme
ball caps turned up and filled with them
Girls:
suit cases or barbie doll cases opened and filled with theme as displays
little purses filled with them
your big pump high heal shoes you no longer wear filled with them as displays
baby buggy or bassinet filled with them
umbrella open and turned upside down displayed with them on the floor in a corner or hung up from the ceiling by a fishing line attached to the ceiling
for either boy or girl
fill those big popcorn tins with them
My favorite for either boy or girl would be for a boy take a pair of his old jeans and sew up the bottom of the hem and fill them with the marbles.
Then either hang them over a coat hanger using clothes pins up for display but easily reachable or just sit the jeans up in a chair or corner to be visible and able to reach to play with.
And for a girl; the same idea but using a pretty dress she has out grown sewing up the bottom of the dress across.