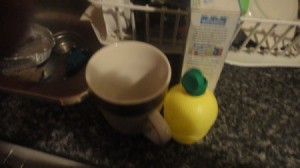 My cups were getting pretty stained so I sprinkled salt into each cup, then wiped it out. It took away all the stains and made the cups shine. Best of all no scrubbing or soaking for hours in Javex. For extra zing on the bottoms and around sides of cups, add salt to the rind of a lemon and use to wipe the cups.
By coville123 from Brockville, Ontario
January 30, 2007
0

found this helpful
I had dishes stored and wrapped in newspaper. The newspaper print is now on the dishes. How do i get them clean? I have put them in the dishwasher twice.
Lee from LOTHIAN, MD
Answers
By Jazzylazzy (Guest Post)
January 30, 2007
0

found this helpful
What are the dishes made out of? Sometimes I have used softscrub or light use of a brillo pad on both stoneware and melmac (an almost stiff plastic). If they are fine china, I'm not sure.
February 1, 2007
0

found this helpful
Sorry I don't know how to remove news print off dishes, but I take it you used the newspaper when packing to move. Am I right?
Next time you move, go to the newspaper place and ask them if they have end rolls of unprinted news paper before printed for packing and moving. They will give them to you.
Check it out for packing. It is the best paper for packing. It comes on tall rolls and I wrapped most every thing that needed wrapping in this paper the last time I moved. The greatest packing paper.
Linda from PA
February 1, 2007
0

found this helpful
I don't know for sure, but a thick paste of baking soda and water works for a lot of stains like that. It really gets out tea stains, for example. I just scrub with baking soda, a few drops of water, and finger pressure.
By nemo (Guest Post)
March 28, 2008
0

found this helpful
Have you tried wiping them with alcohol? Rubbing alcohol dissolves many inks. Then wash in dishwasher.
By furula (Guest Post)
February 19, 2009
0

found this helpful
Try Ajax with bleach it won't scratch!
Answer

this Question

...
How do you remove water and soap stains from glass dishes that have been washed in the dishwasher?

Jessica from Zanesville, OH
Answers
By grandma (Guest Post)
January 16, 2009
0

found this helpful
Use a rinse aid.
January 18, 2009
0

found this helpful
I pour vinegar in the dishwasher.I also put vinegar in my liquid dish soap, when i hand wash my dishes
January 19, 2009
0

found this helpful
To remove water stains from the dishwasher use vinegar.
I put the vinegar in a large bowl that the dishes or glasses will fit in. Put in about 3" of vinegar and roll the glasses in the vinegar for a few seconds, they will sparkle.Then just rinse in cold water. I save the vinegar in a jar in case I need it again.
January 23, 2009
0

found this helpful
Vinegar is excellent as the previous posts stated. If you are still finding after the cycle completes you still have spots, you can use Bar keeper's friend. It's similiar to comet and ajax but it is far better. It polishes brass, use on porcelin, glass,plastic, stainless steel, copper etc.
The possibilities are endless. you can find this product in most Grocery stores. It is in a gold can with blue writing. look for it where you would find comet.
Here's the website for further info on product:
www.barkeepersfriend.com
Jennifer CA
Answer

this Question

...