coville123
Silver Post Medal for All Time! 433 Posts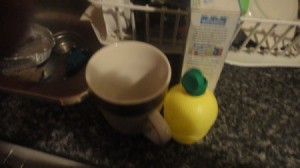 My cups were getting pretty stained so I sprinkled salt into each cup, then wiped it out. It took away all the stains and made the cups shine. Best of all no scrubbing or soaking for hours in Javex. For extra zing on the bottoms and around sides of cups, add salt to the rind of a lemon and use to wipe the cups.
By coville123 from Brockville, Ontario

I spilled Miracle-Gro on a vintage stoneware platter with some crazing. It now has blue spots. I have tried bleach, Bar Keeper's Friend, hydrogen peroxide, oxyclean powder, and alcohol, all of which I had on hand.
Any ideas on how to get this stain out?
Answers

gggd
Bronze Feedback Medal for 2021. 15 Feedbacks
December 17, 2020
0

found this helpful
Best Answer
All the things you've tried were good choices, but didn't work because of the crazing of the glaze It allowed the blue to seep into the stoneware itself. About the only other thing I can think of to try is denture cleaner. Dissolve a couple tablets in as little water as needed to make a paste, then slather onto the areas of blue stains and let sit for a day or two.
Cover the platter with plastic wrap to keep the paste moist, and hope it works. If it works at all, repeat the process as many times as needed to remove as much staining as you can. Good luck, and report back here if it works.
PS -Did you try a paste of white distilled vinegar and a bit of water?

Pghgirl40
Bronze Feedback Medal for All Time! 196 Feedbacks
December 17, 2020
0

found this helpful
Best Answer
Most likely the stain is going to be permanent, but before you give up hope, try rubbing either a lemon or an orange or some citrus fruit (or citrius JUICE) over the stain and see if that dissolves it. Miracle gro is mostly potassium and sometimes citric acid (which is in the juice) will lift the stain.
That is provided that the bleach or other things you tried didn't burn it in.
So sorry! Post back with an update.

December 17, 2020
0

found this helpful
Best Answer
If the stain was not permanent in the beginning some of the products you used may have made it more permanent (especially the bleach).
I would suggest you contact the company - Miracle Gro and ask them for advice. They are very good about answering questions like this.
www.miraclegro.com/.../email-us?__cf_chl_jschl_tk__=6b4cf4e667dc00d7a045bbaf123c0de661fb097f...
If this does not work then try taking your piece to your Ace or True Value hardware store and ask for advice. If you cannot take the piece then take some pictures to show that it is not something used for food. These stores usually have very qualified people available to help with problems like this.
If none of that works then you might try this:
I have read that using a strong 30-40 volumes Hydrogen Peroxide (usually found at beauty supply stores only) with something like regular flour or baby powder (talcum) - make a paste like mix and and push it down into the crevices. You can try regular home Hydrogen Peroxide if you cannot get the stronger stuff. Then take a small thick hand towel or larger if necessary; wet the towel, wring it out and heat it in the microwave for a few seconds until just hot; lay this over the spot where you placed the mix and wait 15 minutes - heat the towel again and hopefully this will draw some of the blue out of the stoneware.
Answer

this Question
I had dishes stored and wrapped in newspaper. The newspaper print is now on the dishes. How do i get them clean? I have put them in the dishwasher twice.
Lee from LOTHIAN, MD
Answers
By Jazzylazzy (Guest Post)
January 30, 2007
0

found this helpful
What are the dishes made out of? Sometimes I have used softscrub or light use of a brillo pad on both stoneware and melmac (an almost stiff plastic). If they are fine china, I'm not sure.

February 1, 2007
0

found this helpful
Sorry I don't know how to remove news print off dishes, but I take it you used the newspaper when packing to move. Am I right?
Next time you move, go to the newspaper place and ask them if they have end rolls of unprinted news paper before printed for packing and moving. They will give them to you.
Check it out for packing. It is the best paper for packing. It comes on tall rolls and I wrapped most every thing that needed wrapping in this paper the last time I moved. The greatest packing paper.
Linda from PA

February 1, 2007
0

found this helpful
I don't know for sure, but a thick paste of baking soda and water works for a lot of stains like that. It really gets out tea stains, for example. I just scrub with baking soda, a few drops of water, and finger pressure.
By nemo (Guest Post)
March 28, 2008
0

found this helpful
Have you tried wiping them with alcohol? Rubbing alcohol dissolves many inks. Then wash in dishwasher.
By furula (Guest Post)
February 19, 2009
0

found this helpful
Try Ajax with bleach it won't scratch!
Answer

this Question

How do you remove water and soap stains from glass dishes that have been washed in the dishwasher?

Jessica from Zanesville, OH

Answers
By grandma (Guest Post)
January 16, 2009
0

found this helpful
Use a rinse aid.

January 18, 2009
0

found this helpful
I pour vinegar in the dishwasher.I also put vinegar in my liquid dish soap, when i hand wash my dishes

January 19, 2009
0

found this helpful
To remove water stains from the dishwasher use vinegar.
I put the vinegar in a large bowl that the dishes or glasses will fit in. Put in about 3" of vinegar and roll the glasses in the vinegar for a few seconds, they will sparkle.Then just rinse in cold water.
I save the vinegar in a jar in case I need it again.

January 23, 2009
0

found this helpful
Vinegar is excellent as the previous posts stated. If you are still finding after the cycle completes you still have spots, you can use Bar keeper's friend. It's similiar to comet and ajax but it is far better. It polishes brass, use on porcelin, glass,plastic, stainless steel, copper etc. The possibilities are endless. you can find this product in most Grocery stores. It is in a gold can with blue writing. look for it where you would find comet.
Here's the website for further info on product:
www.barkeepersfriend.com
Jennifer CA
Answer

this Question