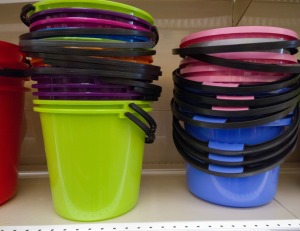 Do you have plastic buckets that are stuck together? Here are step by step instructions for getting them unstuck.
Supplies:
a bored teenager
Dawn dish detergent
a hammer or mallet
a letter opener or a screw driver
a bunch of stuck together plastic buckets
newspaper
Directions:
Have the bored teenager squeeze the dish detergent in the rim area between the buckets all the way around. Watch the Dawn get in between the buckets.
Push the letter opener in between the buckets where you've applied the dish detergent, it will squeeze in.
Lay the buckets on their side on the ground.
Hit the top bucket with the mallet or hammer near the letter opener (or screwdriver). Be sure to not hit directly on the letter opener or screwdriver.
You may have to go all the way around with the letter opener and the hammer.
Stop when you see the buckets start to come loose and pull them apart.
Source: Things my mama taught me.
By carolyn from Mitchellville, MD
Read More

Comments

How do I get plastic buckets apart?

eddie92844 from NY

Answers

Judi
Bronze Feedback Medal for All Time! 239 Feedbacks
July 18, 2008
0

found this helpful
I could be a wise guy and say, "best way you can" but I've been there and it's not funny so...I usually get my husband to hold the inside bucket and I gently pull on the outer bucket and do this slowly until the suction lets go. Or you could try pouring very hot water into the buckets. Or I have put both into a hot bathtub when I didn't have help and that worked.

July 18, 2008
0

found this helpful
I had this problem all the time, I never have anyone a round to help me, so I've learned the hard way don't poll, twist instead.
If you twist the buckets in opposite directions once they start moving it releases the vacuum then they just poll a part.
Now I am very careful not to put the same size buckets inside of each other.
By Lynda (Guest Post)
July 18, 2008
0

found this helpful
Set buckets in empty tup. Fill tub SLOWLY with hot water to bottom edge of top bucket lip, careful not to let buckets float, tip over, or to get hot water into top bucket; then fill Ice water into top bucket slowly. Principle is that the top bucket will shrink with cold water, while the bottom bucket will expand and let the top bucket slide out. Works on most anything except metal, I believe. God bless and help you.
: )

July 18, 2008
0

found this helpful
i sealed driveway today and it rained splattering coal tar sealer on the aluminum garage door and side aluninum door any foolproof ways to clean this off

July 18, 2008
0

found this helpful
Hopefully by now you have them apart. Next time you stack them, use a rock, newspaper, anything to get them not to stack tight. Last time I had to get them apart, I held the bottom one with my feet, sat down to watch TV, kept the pull on the top one, and in about six minutes it finally gave.
Patience won out. It really took that long for tiny amounts of air to get in and break the vacuum. God bless you, as the other poster said I say too.
By Rasta (Guest Post)
July 19, 2008
0

found this helpful
If you have an air compressor shoot air at the rim of the bottom bucket. This forces air into the lower bucket and it will come loose.
By (Guest Post)
July 20, 2008
0

found this helpful
Get two wooden wedges and put one on each side and hammer them until you get it loose enough to pull one apart.
Answer

this Question