Myrna
Bronze Feedback Medal for All Time! 168 Feedbacks
May 6, 2008
0

found this helpful
This dog has dementia and a medication given discusses the change in the dog after taking it. Good luck.
www.healthcentral.com/.../61144.html

May 7, 2008
0

found this helpful
Hello Jenny,
I really feel for you and your old friend. Had it occurred to you that it may be kinder to have him put down? I know this sounds awful, but I was in a similar situation, with a dog I absolutely adored. He hadn't been well for some time, and my darling vet said that since the dog and I had such a good rapport with each other that I would know when it was time for him to leave me. One morning I woke and looked at him, and "something" said NOW to me. I rang vet David, and he told me to come staight away (it was very early in the morning), which I did, and we were the only people there, and it was a beautiful, peaceful death.
It was 11 years ago, and I'm still grieving, BUT . . . . . I didn't want to hold onto my boy to HIS detriment because I loved him and didn't want to let him go.
14 is a good age for a Basset, and since you are so concerned with him, I'm sure he's had a lovely life with you. Please don't let him be frightened by strange medication, which you will understand, but he won't. I have no right to say this to you, but please think of how your boy feels right now, and what would be best for HIM.
With all good wishes, and commiseration.
Leah from Australia.
By LOIS (Guest Post)
May 7, 2008
0

found this helpful
Did the Vet check for diabetes?
By Kim. (Guest Post)
May 7, 2008
0

found this helpful
Dear Jenny,
I have an aging Rottweileller named Sabrina, she is ( at our best guess ) at the very least 14 years old. She was abused as a baby by two different (so called) owners. Now she has hip dispasia and tumors, we have had her to three different Vets and they all say the same thing. It would be to tramatic to put her through surgery. My heart breaks for what you are going through, I'm going through it to. She (Sabrina ) a retired trucker dog I'd just like to add.She is probally the best friend I've ever had. I wish you the very best and I hope you will let me know how everything turns out. It Hurts and we both know it. I am here to talk to if you need to.
Kim

Marcie
Bronze Feedback Medal for All Time! 121 Feedbacks
May 7, 2008
0

found this helpful
I agree with all that has been said here. This is never easy. But, I have had several dogs that I loved very much. It is our responsibility as pet owners, and yes, pet parents, to make the right decisions for our kids. I always tried to hang on to the fact that we do know when it is time to make that horrible decision. Here's the thing. If you think his life is worse than his passing over the rainbow bridge, make that decision for him and for you. Don't let the poor pup suffer, give him an out, it looks like it's time, he sounds like he is miserable.
Good Luck to you, I know how hard it is, but it's the right thing to do.
Marcie In Wisconsin

Janice C.
Silver Feedback Medal for All Time! 418 Feedbacks
May 8, 2008
0

found this helpful
I know how you feel. It's hard. With my two little dogs, I was lucky because they each died of old age in their sleep, and we could see it coming.
With your dog, I think as long as he is doing reasonably well and is not in constant pain, I'd try to be optimistic. I hope the medication helps him.
Dogs know when it's their time, and I think you'll see it too. I'm sure you'll do the best you can. Make sure you have some nice photos of him. I talked to my dogs for weeks about our life together, their health and how death is part of life, and I think that helped me and them.

May 8, 2008
0

found this helpful
I am so sorry for what you are going through. I went through this with my husband and my dog at the same time. I finally had to put poor Phredd, the dog down as he was snapping at the cat, myself and my husband.He was 12 yr.old. He was so confused and it just was terrifing for him and he did not understand day to day things and noises and nothing helped. He was in a constant state of terror.
My husband passed within four months from dementia related problems, he had suffered for 10 years from this terrible desease.
Blessings
Tena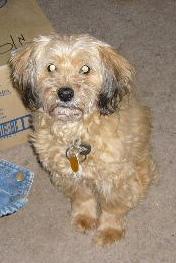 By Milly (Guest Post)
May 9, 2008
0

found this helpful
PUT ME TO REST
Time to let me go my friend,
Because my life no one can mend,
Its better to let me go this way,
Than watch me suffer night and day.
I'm happy to go, my time has come,
My quality of life is no longer fun,
I've been so ill, so it's not a bad thing,
To let me go forever resting.
Stay with me till I drift away,
Fast asleep forever I pray,
To relieve me from suffering and pain,
What more can I ask from my best friend.
Don't be sad, I'll be free from pain,
Never to be ill ever again,
I know you'll miss me being there,
But all the memories you have to share.
Thank you for being my best friend,
And all my needs that you did tend,
Try not to be sad, try not to cry,
Now is the time to say goodbye.
THE RAINBOW BRIDGE
There is a bridge connecting heaven and earth. It is called the Rainbow Bridge because of its many colors. Just this side of the Rainbow Bridge there is a land of meadows, hills and valleys with lush green grass.
When a beloved pet dies, the pet goes to this place. There is always food and water and warm spring weather. The old and frail animals are young again. Those who are maimed are made whole again. They play all day with each other.
There is only one thing missing. They are not with their special person who loved them on earth. So, each day they run and play until the day comes when one suddenly stops playing and looks up! The nose twitches! The ears are up! The eyes are staring! And this one suddenly runs from the group!
You have been seen, and when you and your special friend meet, you take him or her in your arms and embrace. Your face is kissed again and again, and you look once more into the eyes of your trusting pet.
Then you cross the Rainbow Bridge together, never again to be separated.
By Stngray. (Guest Post)
May 13, 2008
0

found this helpful
Your dog might get irritable due to pain from arthritis. Did your vet mention anything about that? Most old dogs get arthritis. When he gets irritable, you could try giving him buffered aspirin (not tylenol, or excedrin, etc) I gave my 40 lb dog 1/2 a buffered aspirin when he was ill. I crushed it and mixed it with liverwurst per the vet's instructions. It did the trick.

suzanne
Silver Post Medal for All Time! 277 Posts
May 13, 2008
0

found this helpful
1(80 mg) children's aspirin per every 10-15 pounds is what our vet suggested. It really helps. Unfortunately our precious Alex passed away 2 months ago from heart failure. She was just 2 months shy of being 11. We still miss her.