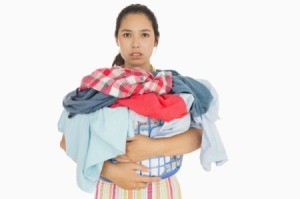 I was wondering how to get ink out of a load of lights.
It is on every piece of clothing.

Thanks,
Sasha

Answers

October 7, 2003
1

found this helpful
Best Answer
As long as it is not ink from a gel pen, rubbing alcohol should take it out. Be sure to test in as inconspicuous area first. And definitely wear rubber gloves, because the rubbing alcohol will severely dry out your skin. Pour the rubbing alcohol over the stain and work it in by rubbing the fabric together briskly. Continue until you get as much of the ink out as possible, then pretreat it and throw in the wash. Since it is a load of whites you may want to throw some bleach in to the load as well.
By Lori In Waukeshs, WI (Guest Post)
September 8, 2004
1

found this helpful
Best Answer
I had an ink pen get ink all over my dryer and took advice from another site. I put two cups on bleach to 1/2 bucket of water. I soaked two towels and put them through the spin cycle just a bit so they weren't dripping wet. I did this twice and got the majority of the pen spots out of the drum of the dryer.
I will have to work on some spots but the majority is gone-My laundry room smells of bleach but saved me going out and getting a new appliance (it is 12 years old so it would not have been tragic).

January 30, 2007
2

found this helpful
Best Answer
I just had this happen, it was a gel pen, and I didn't notice until I pulled the clothes out of the dryer. I used rubbing alcohol on the inside of the dryer, it took a little elbow grease, but it took it all out. For the clothes, I put a cup of baking soda, and 4 scoops of oxy clean and a full cap of liquid laundry detergent in the washer. I filled the washer with hot water and let it agitate for 2 minutes.
I then added the clothes and let them agitate for a few minutes to get them completely mixed. Then I let it soak for 30 minutes and then washed as normal. I took the clothes out and all the ink was gone except for on one shirt. I am going to try soaking that again in a bucket for a longer time, it was a gift from one of my kids to my hubby, so he really loves it. I hope this helps!!!
By Kevin (Guest Post)
February 5, 2008
0

found this helpful
Best Answer
As for getting the ink out of a dryer drum, I took an old hand towel and soaked it in rubbing alcohol. I had pretty good results, and had all the ink out in 5 minutes.
By Jessica (Guest Post)
June 28, 2008
0

found this helpful
Best Answer
Hey guys! Bad news... The idea behind a gel pen is that the "ink" is a fully synthetic material that isn't soluble in alcohol or water so if you have a good quality gel ink in clothes... that isn't coming out.
Regular ink is usually water or alcohol soluble so it should come out with some elbow grease and the right detergent. You'll want to be careful though that whatever you use won't ruin the dye or the fabric in your clothes.
GOOD LUCK!
By Sarah (Guest Post)
July 28, 2008
0

found this helpful
Best Answer
My fiance just washed and dried a load of clothes with an ink pen! I used hairspray (NOT aerosol, just the cheap old pump bottle) on the clothing and treated each spot by spraying on hairspray and then rubbing together. Then I re-washed the load of clothes. I used a hot water wash and let 1 cup of baking soda, 4 scoops of oxy clean, 1 cap of liquid tide agitate for 2 minutes; then agitate with the clothes for 2 minutes; then soak for 30 minutes; and wash.
I was completely floored even ink stains on his white tee-shirts came out!
As for the inside of the dryer I unplugged it and used a washcloth and rubbing alcohol to get all the spots out.
By zoombug (Guest Post)
November 8, 2008
0

found this helpful
Best Answer
Fifteen minutes ago I looked up how to get ink stains out of clothes. Someone mentioned Borax and several mentioned hairspray (key ingredient being some sort of alcohol). I had both at home, so I put the stained portion in a little bowl, poured on some ethanol (rubbing alcohol would probably work just as well) and then put borax on as an abrasive. I just scrubbed it around for several rounds. And amazingly, it came out. This stain had already been washed and DRIED. It had been on this piece of clothing for at least 3 weeks. Try it! I literally just worked for me!
April 11, 2016
0

found this helpful
Best Answer
It depends a LOT on the type of pen. This happened to me today with a high-quality rolling ball pen. I thought these would be the worst to get on clothing. It turns out that these pens are actually water based.
After trying a bunch of scrubbing methods in the sink, it turns out that getting rid of them only took this:
Pot of boiling water
Pour in a few scoops of Oxiclean
Put clothing in boiling water for 5 minutes
Take out - done - stains completely gone
I thought I ruined almost $1K worth of work shirts and pants. (Ruined one shirt using other methods actually.) Figured this out not long after and it worked perfectly. Shirts had been washed AND dried with rolling ball pen, also.
Read More

Answers