By sandy (Guest Post)
March 19, 2005
0

found this helpful
be careful if it is a puppy. our dog park has an age requirement. it is for the safety of the puppy to not be around the older dogs who are vacinated against diseases the puppy isnt. and also several dogs at our park dont tolerate puppies at all.
March 20, 2005
0

found this helpful
Aren't you worried about your dog running out of the park or being attacked?
Holly
March 21, 2005
0

found this helpful
I've taken Maggie often to our "run free" dog park. The park is fenced in with a double gate for entering and leaving. She has been the smallest one there but seems to hold her own well. I haven't seen any dog fights, most of the dogs just have a lot of fun running and playing with each other. Our dog park is 30 acres. Here is are pictures of the dogs and people at our park: www.kitsapdogparks.org/4-03-04.htm
I think in some places they have small and large dog parks. All of the dogs I've seen at our park are large. There are trails and larger meadows for running and catching balls.
It gives your dog a chance to really run. The dogs seem to keep track of their people and don't seem to get lost because they are always coming back to "check in."
It's also a good way for your dog to get socialized with other dogs. Maggie thinks it's just about the best thing ever.
Susan from ThriftyFun
March 22, 2005
0

found this helpful
I would be so nervous taking my little 8lb poodle to one. I would be afraid she would end up getting hurt by one of the bigger dogs.
Kathy
October 20, 2005
0

found this helpful
Puppies do not have full immunity until they've had all three sets of shots, plus rabies. They can also pick up other problems as well, such as worms.
DO NOT take your puppy out in public until that time (at least 4 months of age--better yet, 6 months).
September 20, 2009
0

found this helpful
I think I started taking my dog to Dog Parks too early. Now it's the only thing she really wants to do. and When she's at the park she plays so rough. (She's the Black & White one).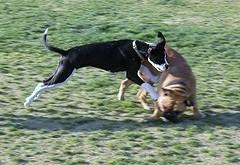 June 27, 2013
0

found this helpful
It is vital to constantly watch your dog at a dog park. He could be attacked by other dogs, stolen, or harmed by other, unsavory people at the park. Just like children at a playground, you need to be constantly watching to see what is going on with him. Try playing chase, tug, or fetch with your dog at the park. He'll probably really enjoy the interaction!