By G (Guest Post)
January 1, 2007
0

found this helpful
use shaving cream (not the gel kind). Spread it on the mirror and wipe clean--mirror won't fog!
By Michawn (Guest Post)
January 1, 2007
0

found this helpful
The solution you probably have in the cabinet is shaving cream. A dry mirror with a dab of shaving cream, wipe in the area that you want NO FOG until all the shaving cream is gone. Next shower...magic, no fog! Or try the window stuff for cars, mirrors and such, Rainx, in ayellow bottle in the car care aisle.
Hope that helps.
January 3, 2007
0

found this helpful
I also "heard/read" somewhere that if you cut a potato in half and rub the mirror with the cut edge, let dry, then wipe off that the mirror won't fog up again...never tried it though.
January 3, 2007
0

found this helpful
I clean the mirrors with dawn dishsoap water and it stays shiny and doesn't fog until next time to clean.
Tina
January 4, 2007
0

found this helpful
I just leave the bathroom door open some when I take a shower and the mirror doesn't fog up.
January 4, 2007
0

found this helpful
Hello - a simple solution to this problem is just to take a dab of shampoo or bubble bath on your fingers and smear it over the mirror. It won't steam up and you can see through it perfectly.
I hope this helps!
Monique x
Somerset U.K
PS: In the picture the lady was nudey so to cover her embarrassment i photoshopped it! lol For illustration purposes only! :D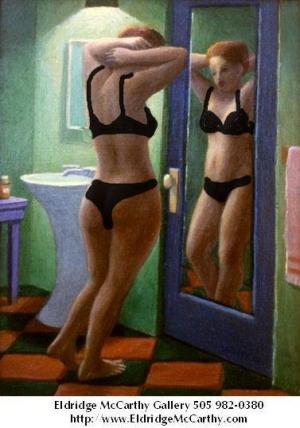 January 7, 2007
0

found this helpful
Oh Virginia, I love, love, love Destin. It's my favorite place to go ... my husband and I have driven over from Mississippi just to "do lunch" before! Anyway, it is true that shaving cream will do it. Use the foam kind, smear it all over the mirror and then wipe it off.
The mirror will not fog up. I remembered reading about this years ago and I tried it on the wall mirror and darned if it really did work! I had actually forgotten about it and haven't tried it in years but I'm going to do this my bathroom tonight!