joan pecsek
Bronze Request Medal for All Time! 66 Requests
April 18, 2008
0

found this helpful
Rabbits have to chew. Their front teeth are always growing. If they don't chew and wear the teeth down they will overlap and they will not be able to eat. It sometimes works to give them a very hard stick to chew on. Rabbits are very territorial. They may claim the stick as theirs and use nothing else. Hope this works. I love rabbits, they're the cutest animals!

April 18, 2008
0

found this helpful
As Stated, the front teeth of a rabbit continue to grow..
Usually, the teeth have to be regularly trimmed by a veteranarian.
Maggie O in Bloomington, MN

April 19, 2008
0

found this helpful
Christine,
Here's a couple of tricks I've learned. First, run your electrical cords through PVC pipes to protect both the cords and your bunny. Place clear plastic strips on the corners of furniture to protect it. Second, provide your rabbit with plenty of things that are okay to chew on.
For example, untreated wooden toy. Also, give your rabbit hard, rabbit-friendly veggies, such as broccoli stalks or carrots (not too much or else a rabbit will have diarrhea). None of these will completely prevent the chewing, but should reduce it and the damage considerably.

susan
Silver Feedback Medal for All Time! 472 Feedbacks
April 22, 2008
0

found this helpful
We used to give our rabbit part of a tree branch to chew on. She loved cherry.

Beth
Silver Feedback Medal for All Time! 407 Feedbacks
April 22, 2008
0

found this helpful
I used to use apple branches. Rabbits teeth never stop growing so they HAVE to chew. Give it something they would prefer - like the branches from fruit trees.
By Christen (Guest Post)
July 9, 2008
0

found this helpful
Well, I can share one trick that does not work. Someone suggested I rub straight lemon juice on the bars of my bunny's cage thinking he would not like the tarte taste. Wrong! He thought it was a special treat and liked them for days!
I've now taken to wrapping the bars with jute string which doesn't last long, but does help. He also likes to scratch and chew on cardboard, which I line the sides of his playpen with.
By Rick _Suddes (Guest Post)
November 2, 2008
0

found this helpful
Try Rataway fragrance from Rataway.com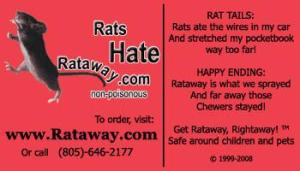 By JEAN (Guest Post)
November 4, 2008
0

found this helpful
Thanks for the feedback. Is peach tree limb safe for them to chew on? I do not have an apple tree.
By rabbit10mom (Guest Post)
November 7, 2008
0

found this helpful
I'm going to state here what I've told house rabbit owners so many times: when God created rabbits, the command was, "Go forth and consume the earth!" so that's what rabbits do when they chew! To a rabbit, everything is a possible meal. Rabbits who live outdoors chew and eat anything they want.
In the last 19 years, we've had 14 house rabbits. Some rabbit slaves say their rabbits don't chew the furniture and wood work, but we've never had one that didn't!
It's also true that they can be distracted with chew toys: sticks, cardboard, hay, etc. Chewing is necessary for their continuously growing teeth and it's a part of their nature.
The fact that rabbits don't bark is a real plus. It's nice to have pets that don't irritate the neighbors. Think about that! And they produce mountains of the richest manure on earth. It's a win win situation for me.
Melody in Eastern WA
By Courtney (Guest Post)
January 12, 2009
0

found this helpful
Its inpossible to stop them from chewing its sometimes just a bad habit but in order to keep them from chewing keep them busy and give them something to chew on the veterinarians told me alders and apple trees are good solid branches for them to much on.

January 21, 2014
0

found this helpful
You don't have to have apple tree branches, my rabbits love maple and many other trees, as long as it's not poisonous. I also offer cheap tooth brushes when indoors running around. They don't usually swallow the rubber, you'll notice a little pile of rubber chips where they have been chewing but if they do it will pass rt through.
Good for teething puppies, too.

September 17, 2015
0

found this helpful
My bunny is okay with table and chairs, I repaired and protected cables and he has carboard box with two ends and that does the trick !