Sparkles is 4 years old. I was over someone's house (which I will not mention) when I noticed that this house has about 8 dogs and there was Sparkles, just being picked on by the dogs.
Sparkles was being poked and nipped and pulled on. Sparkles is also declawed so she had no way of protecting her self. I was very angry. Sparkles got away from the dogs and then she threw-up on the floor. The person that owned her yelled at her, which she should not have done.
Iwent right over to Sparkles and picked her up in my arm to let her know that she is safe with me now. I told the owner that I was taking Sparkles home with me TODAY! So that is how I got her. I saved her 1 year ago.
Well, when I first got Sparkles she was very, very scared. So it took about 5 to 6 months for her to trust me. Sparkles is a very laid back cat. She's afraid to go outside. So she likes to sunbath by the window with the fresh air blowing on her little face. She likes to go on the back screened in porch and smell the fresh cut grass andd watch Molly and birds. Sparkles loves to lay on everyone's lap.
When I do my workout, Sparkles will sit there and watch and then when I'm not looking, she jumps at my feet and takes off running. She keeps doing that till I'm done working out. At the end of the day when it is time to sleep, Sparkles comes in the room and cuddles up above my head. she "purrs" sleeps till the next morning. Sparkles is my little Angel.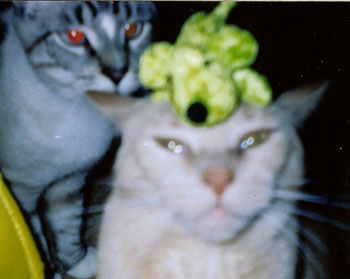 By Margarita from Greentown