By Donna (Guest Post)
January 30, 2009
0

found this helpful
Oh she is beautiful!! I am so sorry for your loss.
By abrown925 (Guest Post)
January 30, 2009
0

found this helpful
What a precious and beautiful kitty.
By Anne (Guest Post)
January 30, 2009
0

found this helpful
God Bless your little Sophie. They are only with us for a little while. I have lost many a pet over the years, and it never gets any easier...Beau, our 21 year old Red Persian; Sweetie-Pie, our 18 to 23 year old Chihuahua; Janie, my little Janie-Brainie to cancer at 8; Sonny to liver disease at 7; Lana at 12, and my beloved Peanut at 18.
Each and every one is special and you can find comfort in knowing they had a good life with you. Take care.
By Lynda (Guest Post)
January 30, 2009
0

found this helpful
Dear heart, that may be the most lovely cat I have ever seen in my 65 years of mega-cat ownership! Unfortunately death comes to all humans and pets, and I know this was a serious and grievous loss for you. I lost two pets from poisoned canned pet foods, so I know what the ache and longing for their loving affection, presence and family membership is like first hand. I believe that god places pets with us to remind us of his great love for us as well, so I pray that he will both comfort and bless you as only he can do during your loss.

Vi Johnson
Silver Post Medal for All Time! 288 Posts
January 30, 2009
0

found this helpful
I do know how you feel. We had ZsaZsa for 25 years.She was a wonderful cat.She was one of the mascots from the old MOD SQUAD TV show before we got her. She was spayed and fully grown so we think she was at least a year old when we got her.Here is her picture.
Go to a shelter and give another kitty OR two a home and the love they will return to you. GG Vi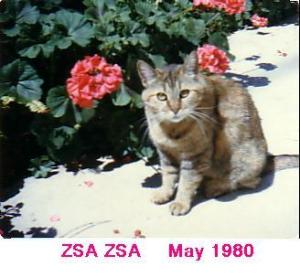 Danialle
Bronze Feedback Medal for All Time! 126 Feedbacks
January 30, 2009
0

found this helpful
Dear Sherri,
I am so sorry for your loss. I know it is hard to lose one that you love. GG Vi is right though, go and get another animal. They give so much love and though you can't replace Sophie, a new member to the family will help heal the pain and fill the empty spot in your heart.
I'm sure Sophie would want you to save another life.
By pet lover (Guest Post)
January 30, 2009
0

found this helpful
Sophie is so beautiful!! I'm sorry for your recent loss. I do believe that their spirits stay with us and are not far away. You have a lot of love and kindness in your heart to give to the animals you care for. I wish I could take your heartache away.
By Anne (Guest Post)
January 30, 2009
0

found this helpful
I entered feedback a couple of hours ago, but I don't see it, so if I show up twice, you'll know why. I am sorry for your loss. Sophie was a beautiful cat. You know, I'm sure there's a Birman Rescue - Google it. Another Birman would love to call your house a home, and you'd be doing so much good.
After we lost our 21 year old Red Persian, Beau, I found his twin (in looks only!) at a Persian rescue in Virginia. We drove down and scooped up Kilian. What a cutie! Of course, he's not Beau, there will never be another Beau, but this one's a real character too!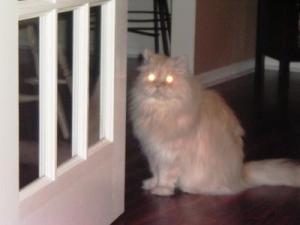 Cyinda
Bronze Post Medal for All Time! 213 Posts
January 30, 2009
0

found this helpful
Thank you for sharing your story with us... I often think that Cats (& other pets) are Gods way of teaching us about his love. I know I'll only have my Smokey for a short time here on earth, but I believe there's a special place where we are united with those we love & this includes our special family of animals that have loved us.
My mother's 2 male Ragdolls passed away at 15 & 16 years old last year & the year before & the only thing that got rid of her husband's depression after loosing them was getting 2 new Ragdoll kittens. At first my mother was upset because he brought them home without consulting her, but how could she stay mad for long when the little female kitten like to lay in her lap & kneads on my mom's tummy as she sucks on her paw...(just like she's sucking her thumb!)
Wait a little while, but in about a year or so, think about filling that hole in your heart with another little bundle of love, maybe another kitty that needs a home.

January 31, 2009
0

found this helpful
She is beautiful and queenly. The dot on the bridge of her nose looks like the red dot popular for women in India, and it adds to her beauty. Thanks, I wasn't familiar with the Birman. God bless you.
By Sherri (Guest Post)
February 1, 2009
0

found this helpful
Hello All. Thank you so much for all your kind words regarding our beloved "Sophie". Last Sunday When I picked up my Welsh Corgi Tucker from his groomer, there was a group there adopting out older kitties. Well, as you can guess! I did find a sweetie. We named him Teddy. He is about 3 years old and had been abandoned and left in a house alone. Teddy is just a love he is a DSH org/wht. Teddy has been to work with me for his exam, and he was anemic. He has been treated for this and our Doctors think he will be just fine. Teddy sleeps with me and our little girl Punnie. Teddy has already given her a bath, so now he has a new family to love him, and we love him dearly already. Again, Thank you
By janet from toronto (Guest Post)
February 20, 2009
0

found this helpful
I am truly sorry for your loss. I have never seen such a beautiful cat. Take good care. The most important you gave her a great home and she knew it. God Bless, Janet

February 27, 2009
0

found this helpful
I am so sorry for your loss. She really is a beautiful cat with all those gorgeous markings. I have 3 cats of my own all of which were strays. I have a chronic illness and my cats keep me going. I hope all works out with your new kitty and may you all be blessed..