By Kathy from Chattanooga (Guest Post)
January 8, 2009
0

found this helpful
I'm curious to know the outcome at the vet... We have a 4 year old black lab mix who has blue eyes - we got her when she was about 4 weeks old, too and we thought she was blind but she turned out ok.
Maybe your pup will have blue eyes and it could be that the eye color makes them slower to develop or more sensitive? I hope that you have good news from the vet.

By halloweenfreak (Guest Post)
January 8, 2009
0

found this helpful
My mother was told once to get several clean cotton balls and drop one at a time in front of their face. They wont make a sound so they should follow it solely by sight.
January 8, 2009
0

found this helpful
Hi, was there something wrong with the mother that you had to take the puppy so young? A puppy should stay with its mother until 8 weeks of age.
Please let us know what happens after you take him to the vet. Even if he is blind, he will make a loving boy I'm sure, and dogs have wonderful noses and those big ears :)
Sorry I cannot help more than that.
January 8, 2009
0

found this helpful
I know my cat had kittens twice and they take a while to open eyes and aren't supposed to be taken form the mom til like 6-7 weeks at least it takes a while to open their eyes and even then they don't see well is it possible she was just taken to young and perhaps her sight hasn't fully developed? I wonder why none of the litter survived? please keep us all in formed good luck!
January 8, 2009
0

found this helpful
We had no choice but to bring him in. The momma dog did great with the first litter but I am thinking because she lost the litter but him he was eating ALL the time. We're talking about a 6-7lb pup at 4wks. It got to the point she was putting him out of her house and biting at him every time he went to eat.
He's doing great inside with us, and when we take him out he poops right away and pees. He seems to be very smart. My friend thinks he's just gonna have blue eyes but I will def. update everyone. Thanks for the responses!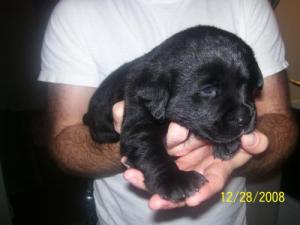 January 8, 2009
0

found this helpful
I forgot to add that this litter was about 3-4wks premature. He seemed to be the healthy one. It was hard on all of us.
By Shelter Worker (Guest Post)
January 12, 2009
0

found this helpful
FYI-dogs rely on sight the least out of all their senses. they do not panic because they can't see something. All the more reason for you to take the dog to a vet.
By (Guest Post)
January 13, 2009
0

found this helpful
He's doing great! Thanks for all the replies. He has a clean bill of health. His eyes still have a blue tint color to them but the cloudiness is gone. When we take him outside to potty the only time he whines is when we put him in the grass(it's so cold).
He'd rather go potty in the driveway:) He follows us around everywhere. He has really done good using his puppy pads, and he's eating puppy food, and sleeping through the night. lol He's a great addition to our family.
March 15, 2010
0

found this helpful
I used Walmart's Equate triple antibiotic ointment plus, directly on a kitten's eyes. She was blind. She can see fine now. I put the medicine on her eyes several times a day, for about 4 days.