EllenB
Gold Post Medal for All Time! 858 Posts
Windows can account for as much as 35 to 40 percent of a home's heat loss. With heating costs on the rise, that can translate into significant dollars. New windows are not in everyone's budget, so if you are looking to increase the energy efficiency of existing windows, here are some simple tips for sizable energy savings.
Locating the Leaks
The first step in improving the energy performance of your windows is to locate the air leaks. For the best results, perform this on a cold and windy day. Turn on all exhaust fans, the furnace and the clothes dryer. This will increase the difference in pressure, drawing air out of the house so that outside air is drawn in to replace it through leaky points. To locate air leaks, hold a smoking stick of incense or a thin piece of thread near windows. Drafts will be apparent as the tread or smoke move with the air currents. Assess if there is any weatherstripping or whether it is worn out and needs to be replaced. Mark the area with chalk. Now that you know where the leaks are, you can fix the problem.
Weather Stripping
As a rule, weatherstripping should be installed at points where surfaces move or slide together. The type of window will determine the type of weatherstripping to use.
Double Hung or Vertically Sliding Windows: These types of windows can be weather-stripped with tubular strip materials. Install weatherstripping in the gaps between the window sash and frame. This also includes the area in the middle on where the two sashes meet.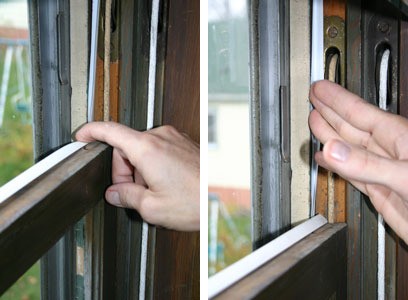 Horizontal Sliders (and sliding glass doors): The type of weatherstripping to use on these windows depends on the material the sash is made from. If not previously weatherstripped, wood or vinyl-covered windows can be fitted with angled strip materials. If factory installed stripping is worn out or defective, replace it with the same type of stripping it came with.
Awning, hopper or casement windows that swing open: Weatherstrip these windows like you would a door. Attach stripping to the jamb (on all sides, including hinged side) so the window closes against it.
Caulking
Caulking is another method of improving performance that gives a high return on energy savings for a minimal amount of investment. It should be used on the non-moving parts of windows. The best place to caulk is on the inside. Although exterior caulking is important for weatherproofing, it has little effect on overall energy savings. Apply caulk where the frame of the window meets the wall and between the frame and sash (on permanent non-sliding sections).
Replacing Sashes & Reglazing
Replacing sashes or reglazing windows can be cost effective alternatives to replacing entire windows. Select sash material with a high insulating value and glazings with a low emissive coating.
Plastic Film
It's nobody's favorite, but plastic film can be a good short-term solution to poor performing windows-especially traditional storm windows. Installed on the outside, it helps reduce air infiltration. The negative side of this is that it may frost over, reducing visibility and creating moisture problems. If placed on the inside, it can help stop heat through leaky windows. The other side of this is that the glue can damage stain or paint once removed.
A Cautionary Note About Combustion Air
Whatever steps you take to increase your window's energy performance by stopping air leaks, it's important to make sure that your furnace, water heater, and other fuel-burning appliances have sufficient combustion air. It they do not, backdrafting of carbon monoxide and other gases into the home can occur. For more information on Combustion Air, how to test for problems and how to install a combustion air supply, consult with your local utility company or energy expert.
Comments
By Jen (Guest Post)
July 23, 2006
0

found this helpful
I need to cault or reglaze some windows, and you recommend as follows:
"Replacing Sashes & Reglazing Replacing sashes or reglazing windows can be cost effective alternatives to replacing entire windows. Select sash material with a high insulating value and glazings with a low emissive coating."
But none of the window glazing materials I've seen seem to be "low emissive," and they all recommend preparing the sash by priming with oil-based primer. I want to do all of my home improvement projects in as environmentally friendly and healthy way as possible. What do you recommend?
By Deb (Guest Post)
January 29, 2007
0

found this helpful
I found my best insulating of windows, doors and cracks that I have is a roll of plastic wrap such as Glad wrap. Instead of using it for food I put some at the bottom of my doors and windows to stop the windows that are leaking and the doors I do not use in the winter. I have also used it to stop air leaks in my unfinished basement where there are gaps between the foundation and framing and I have used big wads of it around the pipes leading to the outside. Simple to use and economical also.
These postings are nice there are better ways.
By Deb (Guest Post)
January 29, 2007
0

found this helpful
P.S.
It is amazing what a roll of grocery store plastic wrap and a butter knife can do to stop drafts and bugs while also being something anyone can do themselves. Of course you will also have something that will not be overly binding and bulgeing so as to not warp nor create a bigger problem. Have fun doing it too knowing you can do it your self economically and more simply.

Janice C.
Silver Feedback Medal for All Time! 418 Feedbacks
April 21, 2007
0

found this helpful
A second pair of curtains can be a big help too. I use mini-blinds and then hang 2 pairs of curtains on my living and dining room windows. The inside pair I hang on 3/8" dowels, held up by a couple nails over the window. You can get 36"-long wooden dowels inexpensively at any hardware store. The regular curtains hang from their usual hardware. The extra insulating keeps out drafts, and noise as well.
Read More

Comments