Have you moved to a new neighborhood and looking for a way to get to know your new neighbors? Would you like to host a small charity event? Are you a group of friends who just want something fun and different to do? If you answered yes to any of these questions, the Crazy Hat Tea Party may be just what you're looking for. It's a great event which people enjoy preparing for and allows for great icebreaker activities as well as opportunities for fundraising.
Invitations
Supplies:
blank cardstock and envelopes
magazines, catalogs, and/or clip art software depicting various types of hats
glue, if using magazines and/or catalogs
I hosted my tea party on April 1, so I designed my invitations with an April Fools' Background. I chose a crazy background, then printed my cards using a card-printing software program. I'll be doing this party again next year (more about that later!), and have already decided to design the invitations with the hat motif instead. Below is a sample of my invitation. As you can see, the hat motif is stressed, as is the idea to have fun and be creative.
My Hat
Because I am an avid gardener yearning for spring, I chose that theme for my hat.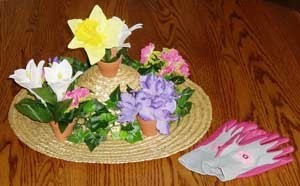 Supplies:
one 18" diameter brimmed straw hat
five 2" diameter clay pots
silk spring flowers
silk ivy garland
hot glue gun
Glue four of the clay pots to the brim of the hat (space them equal distances apart so the weight of the pots is evenly distributed) and one to the top, slightly off center. Glue a flower or flowers in each of the clay pots. Finally, weave a strand of ivy through the pots on your hat brim. Voila! An "I Can't Wait for Spring!" hat.
Menu
I stayed with a fairly traditional tea menu of tea, scones, and muffins; however, you could get quite creative here as well. If you use a gardening theme, serving salads and/or fresh fruit would be quite fun!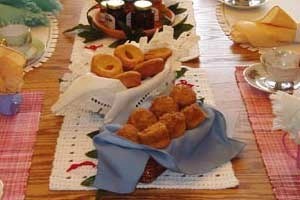 Because there are so many interesting bagged teas available now, I chose to offer several varieties of those rather than mess with loose tea. Of course, loose tea is always a possibility too.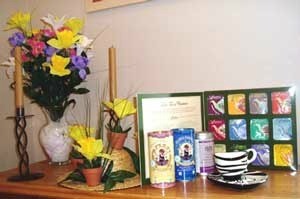 Décor
Outdoors:
To get everyone in the mood as soon as they arrived, I hung oodles of hats from the trees in the front yard and the front porch railing, and a wreath of silk ivy, ribbon and a straw hat on the front door.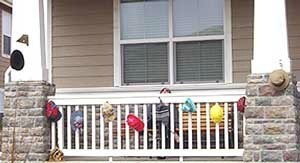 Supplies:
24 hats of all types: I used every hat we had in the house, including gardening hats, baseball caps, and winter hats. I also purchased hats at thrift shops run by Goodwill, the Humane Society, etc. - all were less than $5, most of them $1. I went with an open mind and ended up with a child's red plastic fireman's hat and a plastic yellow hardhat, several children's winter hats, and a few felt hats.
heavy string or crochet thread
tapestry needle, with eye large enough for the string/crochet thread
First, I hung hats along the railing of my front porch, using the hooks that hold our holiday lights. The rest of the hats were hung from the trees. Many of you could probably set the hats in your trees - consider yourselves lucky! I live in a fairly windy area and didn't want my hats flying through the neighborhood, so I looped crochet thread through each hat and tied them to the trees.
Wreath supplies:
30" metal wreath form
silk ivy garland
3 yards of ribbon
12" diameter brimmed straw hat
heavy string or crochet thread
tapestry needle, with eye large enough for the string/crochet thread
Wrap the hat with just enough ribbon to go around once. Weave the ivy garland and remaining ribbon around the form. Using the string/crochet thread, hang the hat from the wreath form so that is centered in the middle of the wreath.
Indoors:
I designed the indoor décor around my hat, using hats, gardening supplies, and the same type of silk flowers used on my hat.
Supplies:
two 12" diameter brimmed straw hats
ten 2" diameter clay pots
silk spring flowers
one 8" diameter clay drainage dish
two empty tin planters, lined with napkins
placemats and napkins
ironing board
tablecloth
table runner
tea cups and saucers
It's best if they are not a matched set. I scoured thrift stores, resale shops, and antique shops for mine. As an alternative, you could have each person bring their own!
The hats were decorated using the same supplies used for my hat and were used as centerpieces. I placed jars of honey and jam on the clay drainage dish, and the scones and muffins were placed in the tin planters.
Why an ironing board? I was expecting ten guests, but only had space for eight at my table. I set up the ironing board, covered it with a white lace tablecloth, then placed a gold table runner on top of that. I brought in two counter stools from the kitchen, which were the perfect height for the ironing board.
Finally, the Tea Party!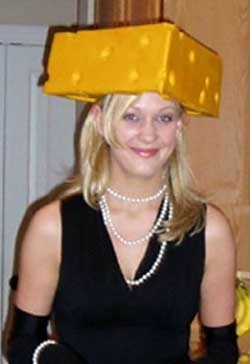 As people arrived, we took pictures. Many people brought their own cameras, so there was quite a bit of photography! We gathered outdoors and discussed our hats and gloves. One guest wore a 70's wedding hat complete with floor length veil, while another wore a chef's hat and oven mitts! It was so much fun to see the personalities that the creativity brought out.
Once everyone arrived, it was time to move inside. As my guests entered, I asked them to look over the various tea cups and sit at the one they liked the best. Once everyone was seated and the hot water was poured, I described each type of tea and passed them around the table so each guest could choose their favorite. The scones, muffins, and honey & jams were then passed around. Once everyone had their tea and food, I asked each guest to explain why she chose to sit at that particular tea cup. It was a great icebreaker and gave us some insight into each other.
It was a wonderful afternoon and, when I mentioned that I'd be donating my thrift store hats back to the charities, it was suggested by several guests at once that this be the first annual April Fools' Tea Party and that I store the hats for next year! That's a pretty good sign that everyone enjoyed the afternoon and I'm sure that you'll find the same success.
For a Charity Function
This could be a great money-making event for a charity. Here are some suggestions on raising money at a Crazy Hat Tea Party.
Have a silent auction for each participant's hat. (Be sure they know that they'll be donating their hats during the tea party!)
Have the guests wear winter hats, which will then be donated to a shelter. (Again, be sure they know they'll be losing their hats!)
Charge a fee for each guest.
Take photographs and allow the guests to buy as many as they wish, which is easily done in the digital camera age!
Make all of the hats yourself and have your guests purchase them.
Have each guest bring a tea cup to sell at a silent auction.
As you can see, this could be quite a versatile and enjoyable fund-raising event.