Keychain for Store Cards and Important Addresses
I have too many store cards and other important information that I needed to keep on hand, like addresses for forms and kids school address and class numbers (I have three kids and need it when I go to school to pick them up or meet the teacher).
I put some colorful labels on some plastic cards from a cruise that we went some years ago, entered the necessarily information and used a hole puncher to punch holes in one corner of all the cards including the store cards. I strung the cards using a key ring. Now when I go to the supermarket, I do not fumble through my handbag or make a mess of my purse. I can get all the discount that is due while shopping. I have also added a handy Swiss army knife that has a scissors, nail file, knife and a screwdriver all that fold in. It had become a very handy tool.
By Raji from Queens, NY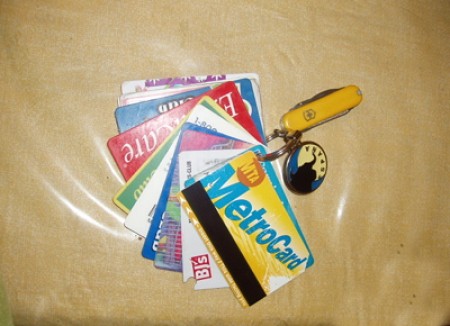 Add your voice! Click below to comment. ThriftyFun is powered by your wisdom!
February 16, 2011
0

found this helpful
Brilliant!! I have lots of those cards (including the mini-size keychain version which I never use cause I don't want a lot of keychain clutter) and am forever forgetting them in a nice, organized pouch at home. Little good they do me there. But this is something I can keep in my bag and it's more likely to get used.
Thanks!
February 17, 2011
0

found this helpful
I had to laugh when I saw this. Hubby made a simular one only he put it them together with something other than a key ring. He put a magnet on them and put then in the trunk lid of the car,so when we got out the cloth shopping bags we could just grab the cards too. Only thing was when I opened the trunk I didn't know they were there and they must have fallen off and were lost. Now we just give the cashier our phone number and they give us the discount. Now we don't have to carry any of those store cards. GG Vi
July 9, 2012
0

found this helpful
I tried this when I was in high school with library cards, book store cards, points cards, gym cards, ID cards, etc. The problem with this is that soon you are carrying around a bulky five - pound keyring that no longer has any keys on it - just cards.
Add your voice! Click below to comment. ThriftyFun is powered by your wisdom!