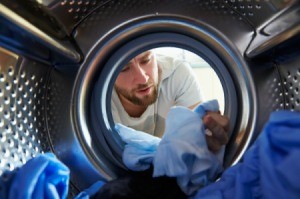 I was reading a few days ago about when you are trying to wash greasy mens work clothes, someone said to put a cup of something. It was something real simple that we already have a the house and I knew that I would remember so I didn't write it down, but, guess what? I forgot it. I remember saying "oh! of course, that is so simple, of course it would work". Could the person that wrote it down please put that information back on the site? Thank you!
Jamish from Ransom, Kansas
Answers
By joan (Guest Post)
November 27, 2007
0

found this helpful
Best Answer
Blue Liquid Wisk will remove almost anything. Grease, lipstick, grass stains. Put a little right onto the stain, rub it in, toss into washing machine. It also made a "gray" white nylon shirt sparkling white again.

November 27, 2007
0

found this helpful
Best Answer
I second the ammonia. Just make sure NEVER to combine bleach and ammonia in the same load. It creates a toxic gas.
By bonzai. (Guest Post)
November 27, 2007
0

found this helpful
Best Answer
The best thing I ever found to take out grease (or gum!) is Lestoil. You want to pour some on the spots or gum and let it sit awhile. It smells terrible, so you have to wash the clothes twice, once to get out the grease and another time to make it smell better, but it really works well.
More recently I have found that OxiClean (the spray on prewash) works on just about anything. It's amazing. I must confess that I haven't had to remove any grease lately though.

November 29, 2007
1

found this helpful
Best Answer
My husband delivered crude oil for years & years. He'd have to go to the site, load the product from the well, & then deliver it where ever. I used automatic dishwasher soap to get the crude oil out. Just fill your washer about halfway with hot water, add the dishwasher soap granules, swish the water around a little, add the clothes, finish filling with warm water, allow to wash for a few minutes, then turn the machine off & allow to soak for 30 minutes to an hour, turn the machine back on & allow to finish washing.
I always used an extra rinse. I found that the generic or cheaper brands of dishwasher soap worked best. Read the package label & find the cheapest with the highest phosphorus content. I used about a cup for a large, heavily soiled load--sometimes more--& I added half the amount of wash detergent. Sometimes, due to the gravity (thickness) of the crude, I might have had to wash them twice--but not often. I have no idea if the gels or liquid forms of dishwasher detergent will work as well as the powder or granules.
Answer

this Question

My husband recently started working in the oil field. How do I wash and dry these work clothes without ruining my machines?
By Diann from AR

Answers

March 10, 2012
3

found this helpful
Best Answer
My ex-husband was working as a helicopter mechanic in the oil patch back in the late seventies when I met him. He would go offshore and be on the rigs for two weeks at a time, so the grime he brought back was pure oil patch grime. He used Tide detergent and the hottest water the laundromat supplied.
That worked OK, but after we married I discovered adding a cup of Pine-Sol really made a difference.
I even had good results with the generic pine cleaner-it cut the oil and grease right out of his clothing, and took the odor away with the grime. He continued his aviation work (although he left the oil fields in the early 80s), and I used liquid pine cleaner as a laundry additive right up to the day we split up.
I've always believed the pine cleaner is what kept my machines running smoothly in spite of the laundry stress I was putting on them.
In over 18 years of marriage we only needed two washers-we bought a used machine (White Westinghouse) in '81 and replaced it with a new one (GE) in '86. That GE was still washing strong when we divorced in 1999-he took it and I bought a new one (Roper).
Answer

this Question