I have fleas really bad. I got new furniture from a friend and they had a dog, two cats and one of the cats had kittens. So now I have all the fleas. I have used bombs, but they don't work. I have been told to use some thing called Sevin Dust. I can't do that because my 1 year old's bed is where the worst of it is.
I can't just put that stuff on there can I? I don't want to hurt her. The other parts of my apartment I'm not worried about, I can just sweep like I was told. I just don't know what to do about her bed and ours for that matter. Is it safe to put Sevin Dust in beds?
Amber from Quaker

Answers:
Getting Rid Of Fleas In Beds
I don't know about Sevin Dust, but I had a similar problem and got a spray that contains pyrethrines that I was able to spray on all my furniture, bedding, etc. It not only kills the fleas, but contains a time-release chemical to keep take care of any eggs that have been laid. All you need to do is make sure the spray had dried before letting children, pets, etc. back in the area. (09/22/2008)

By
Getting Rid Of Fleas In Beds
Do not use Sevin dust in your child's room or anywhere he can reach it. It is a poison. It is the best, but most dangerous in your home. My grandmother uses powdered Borax bleach under the beds and in the corners and in closets. I have also used iodized salt. Sprinkle it over all carpeted areas in the house and leave on for a good three or four hours, vacuum up and throw away vacuum bag in outside garbage.
Also, if you use bombs like Rid a Bug or Spectricide you must follow the directions and repeat after seven days. Fleas lay eggs every seven days, so you may want to repeat up to two times. After each bomb or treatment wash all bedding, pillows, cushions, plush toys, in warm water in a long wash cycle. It takes fleas up to five minutes in water to drown. That's what I have had to do and it worked. Hope I was helpful (09/22/2008)

By Stephanie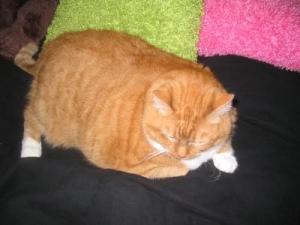 Getting Rid Of Fleas In Beds
Sprinkle your furniture and carpet with "food" grade Diatomacious Earth. It is not harmful to pets, but will kill fleas. (09/22/2008)

By Nikki
Getting Rid Of Fleas In Beds
I had this problem with a 3 month old baby. I had the apartment professionally bombed (de-buged) If you have any pets, they will have to be treated at the same time. (09/22/2008)
By Beth
Getting Rid Of Fleas In Beds
Check with your local vet clinic and ask them what they recommend to their clients for in-house flea problems. If it is a spray product here is a suggestion, if you are able to do it:

Spray the bed out doors and leave outdoors for 24 hours.

When you have finished spraying the bed, spray the room where the bed was. After 24 hours, vacuum the room from top to bottom.

Before returning the bed to the room, I would steam clean it with one of those hand held steamers. Once it has dried off, put it back into the room.
Good Luck. (09/22/2008)

By lesley
Getting Rid Of Fleas In Beds
When my daughter was about 9 months old our cat got fleas and I chose to exterminate myself (we were pretty broke). First I washed the poor cat with flea shampoo. I bought a sprayer from the hardware store, some Demon packs over the internet and a product called Precor. I sent my daughter to my girlfriend's house for the day and got to work.
I put a packet of Demon in the sprayer, about half of the 2 oz. bottle of Precor and filled the rest of the sprayer with water. I started upstairs and worked my way down, spraying every inch of the carpet. Then I vacuumed, again starting from upstairs and working my way down. I changed the vacuum bag and sprayed everything again upstairs and down, then vacuumed and changed the bag again. Then I took a long shower. (09/22/2008)

By GoodAndCheap
Getting Rid Of Fleas In Beds
Put some banana peels in hidden places around the rooms. I do this about once a year whether I see any fleas or not. I have 3 dogs, but no fleas. (09/22/2008)

By Janneba
Getting Rid Of Fleas In Beds
My Uncle is a vet and he says Borax works best and you just sprinkle it on the carpet or bedding and let it sit for about 30 minutes then vacuum it off. Not harmful like the Sevin Dust we used to use before we put the dogs on the Program. (09/23/2008)
By Beth Spore
Getting Rid Of Fleas In Beds
I read recently advice on this in a newspaper column. Person had used the salt as advised above plus washed the animal in Dawn dish-washing liquid until all the fleas were gone.

Another way to catch the fleas and kill them is to put a low pan like a glass pie plate (or anything low to the floor) filled with water and any kind dish-washing liquid. Place directly over and pointed into the low dish a light. The fleas will jump up to the light and fall into the water where the dish detergent will keep them from jumping out of the water and quickly kill them. I have used this successfully.

Once fleas get inside the house the Frontline or Advantix will not keep the fleas off the animals so it's a waste of money. I also will use a flea comb with a glass of water with Dawn in it nearby to dispose of the fleas every day on the cat or whatever animal.
(09/23/2008)
By Angellface
Getting Rid Of Fleas In Beds
Sevin has been banned from sale because of health hazards. Please do not use it where there is a child or pet present. Thanks. You may need to get rid of the infested bed because it contains flea eggs. I'm so sorry you have this problem. I know its a hard one to lick. Talk to a veterinarian about it. Good luck. (09/23/2008)

By Carol in PA
Getting Rid Of Fleas In Beds
I have had fleas so bad, they come in cycles. My maintenance men were bringing them in. I went to Petsmart and got Adams spray for fleas. I use this about once every month and it works. (10/14/2008)

By Teresa
Comments
Read More

Comments