Getting Coupons in the Mail?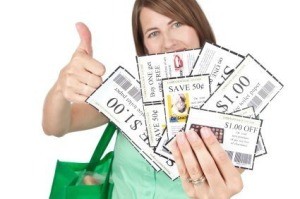 Does anyone know of a website that I could go to that has coupons that will be delivered to my door? In my area, they do not allow on-line printed coupons.
Thank you,
Sarah from Winchester, VA
Answers
April 8, 2007
0

found this helpful
Best Answer
Well if you are going to "buy" your coupons, get a newspaper subscription! The cooking club coupons sound like a rip off, I am sure they get the coupons free from companies and they are charging you (a lot) to make profit. There are a lot of businesses that take advantage of at-home people. The shopping shows are a big one. My mom spends money on those products (on qvc, hsn), she is handicapped and can't drive. She thinks she is getting these "great" products that you can get for a third of the price at the store. It causes me much disgust to think of all the people out there getting ripped off, and scammed! They even make it seem like they are your friends visiting when you have their show on. Yuck!
Ok I kinda got off subject, sorry if I upset anyone.
P.s. I have been rejected once for coupons online, by nabisco. You are probably better off calling their toll-free number
By Sarah Miller (Guest Post)
November 22, 2008
0

found this helpful
Best Answer
Yes all you need to do is look in your cupboards at any food item, go to their website click on contact us email them a request for coupons by mail. They will be there within the next two weeks and you can do it as many times as you like. I do it all the time and yes it works. Sincerely, Sarah
Email me sometime rattie05 AT yahoo.com
June 7, 2012
2

found this helpful
Best Answer
These places have sent me coupons so far for complimenting them:
Carl Buddig (2- $1 off of 4 packs)
Colgate-Palmolive (17 coupons for various products)
Campbells soup (2- $1 off coupons)
Mission Foods (2- up to $1.99 free off any product)
Anthony's pasta (got email saying my coupons will be delivered soon!)
Lofthouse Cookies (2- $.50 off any packages)
P&Geveryday (requested a coupon book with over $25 in savings)
Many websites you can ask for samples and they send coupons within the samples. Here are some sites I use and love everyday:
Frogslap.com
getitfree.us
icravefreebies.com
sweetfreestuff.com
allyou.com
ilovefreethings.com
myfreeproductsamples.com
all-free-samples.com
samplestuff.com
freesamples2fillupyourmailbox.com
Hope this helps. (:
Answer

this Question
27 More Questions
Ask a QuestionHere are the questions asked by community members. Read on to see the answers provided by the ThriftyFun community or ask a new question.
I have been embarrassed by printing coupons and getting to the store only to find that they were counterfeit. How to I get on mailing list for coupons in the mail only?
By Christl B.
Answers
June 19, 2011
2

found this helpful
Best Answer
I don't know of such a program, or I'd join it myself...and I subscribe to a lot of frugal mailing lists. :)
If you want legit internet coupons, you can't go wrong at the Smart Source and Red Plum web sites (they're the companies that print coupons for Sunday newspapers). Also, Coupons.com printables are legit.
Something else you can do is just call the companies whose products you like, comment on them, and they'll usually offer to send you some coupons for the product. If they fail to do so, just ask for a coupon. I've saved lots of money this way!
Answer

this Question
How to get coupons in the mail? I'm having trouble with my printer.
By Ralph

Answers
September 21, 2011
0

found this helpful
Best Answer
If you go to CVS or Ralph's or whatever your local store is, you can have them put you on a physical coupon list. Trust me, they will be happy to do so. Don't give up on the online stuff. There are too many good deals. Go to the local library and try to print a few off if you can. Good luck.
Answer

this Question
How do I get coupons through the mail?
By Keisha
Answers
August 5, 2011
1

found this helpful
Best Answer
Write or email companies telling them how much you like their products and ask for couponsthey want you to buy their products, so are happy to do this. Sometimes you will receive coupons for free things!
Check out all the couponing sites online. Extreme couponing is so popular right now and there are lots of websites telling you how to do it and where to get coupons and freebies. I like to send off for at least one freebie a day to keep my mailbox busy! If you're on Facebook, if you "like" a company or product, you can get access to coupons that way. There are also "coupon trains" where you swap coupons with other couponers via snail mail. A lot of companies offer coupons that you print out, so if you don't have a printer, you should get one. Walmart sells them as low as $29.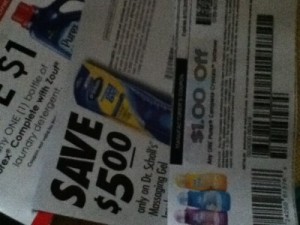 Answer

this Question
How do I get coupons in the mail?
By Yolanda

Answers
November 16, 2011
0

found this helpful
Best Answer
You can get coupons by calling the 800 number they have on product. You can also go to website and print out coupons for products and use them the same way.
Answer

this Question
How do I receive coupons in the mail?
By rhondah from Andersonville, TN
Answers
October 5, 2011
0

found this helpful
Best Answer
You can go to the manufacturer site and request a coupon there, often times, if it is a Bricks coupon printer, you can click on "help" at the bottom right of the print page and request your coupon in the mail. Also, you can go to Rightathome.com and request their coupon book in the mail. Kroger will also send you a coupon book about once a month. Those are the only resources I know of, I get coupons from all three of them.
Answer

this Question
I live in Welland Ontario and would like to know how to get coupons by mail with out a catch. Would I be able to pick more than 1 item at a time?
By Sharon from Welland, Ontario
Answers
Answer

this Question
How can I get coupons in the mail?
By Megan

Answers
November 16, 2011
0

found this helpful
Best Answer
Join a Yahoo Group called "Coupon Loop". The moderator sends out coupons to each loop on Monday. The person receiving them, in the loop to which she assigns you, looks through the envelope, takes the ones out that they want and the ones that are almost expired, puts more in the envelope that will not expire before 3 weeks, and sends it to the next person you are told to send it to. I've been a member for a few years and find it very helpful.
Locally, I run a free coupon club at the library. I collect coupons from friends and everyone I meet. I ask, "Do you get the Sunday Paper, do you use coupons, what do you do with the ones you don't use?" Most say, "Throw them away". Then, I ask to have them and that is how I get them. Also the club members bring the coupons they don't use each week to share. The library gives me the room free. We hold the club for 2 hrs. The first hour, I let them look through the coupons I bring and the second hour I teach them how to use the coupons to save a lot of money.
Answer

this Question
I want to start getting magazines and coupons in the mail, but I don't know how. Please help.
By Danielle T

Read More

Answers
Are there any food companies that mail coupons?

David from Boynton Beach, FL

Answers
May 7, 2006
0

found this helpful
If you call the phone number on the package, they normally are happy to mail them out. My favorite grocery store stopped using internet coupons, so I do this with the few brands I go with (I usually use store brand or bulk food). Some of the small local food companies, like farmer's co-ops may not have them available.
By sandy (Guest Post)
May 9, 2006
0

found this helpful
i have called and emailed many companies and they all deny ever sending coupons. i then say my friend or whom ever has gotten them and they never send them to me.
May 9, 2006
0

found this helpful
I subscribe to a few freebie sites that give free coupons now and then. The most recent was for a free bag of dog food worth@ 15.00
I think it is only good for Canada, though.
Go to www.iamscoupon.ca fill out the form and your coupon will be in the mail in a week.
I have already got mine.
By jmz2005 (Guest Post)
May 10, 2006
0

found this helpful
I have written companies with complaints or complimets on their product and usually recieve many coupons from them for more of their products.
Read More

Answers
How can I get coupons through the mail?
By Tyre from Annapolis, MD

Answers
May 25, 2012
0

found this helpful
Best Answer
Just call the 800#'s listed on the packages of the products you're interested in receiving coupons for and most companies will be happy to mail a coupon to you for that product and might offer some for other product coupons they sell if you just ask too. :-)
Answer

this Question
I am looking for other options for getting coupons through the mail. Where can I find some? I have a membership with coupons.ca and that is about it. However, it's still not enough.
By Marie-Eve from Fort McMurray, Alberta, Canada
Answers
June 25, 2011
0

found this helpful
Best Answer
I like All You magazine. You can look in the first few pages and there is a page that tells all the coupons in the whole magazine. I always buy this magazine when I have the money for all the coupons. If there is a particular product that you like, find it's parent company and ask them to send you coupons.
Answer

this Question
My printer is broken. How can I get coupons mailed to my house?
By Delilah

Answers
May 22, 2011
0

found this helpful
Best Answer
Go to the websites of your favorite products, and some allow you to sign up for mailed promotions. You can also write letters to the same companies, telling about how much you like a product, and they usually send something back, even if it is only one time.
Also check at your local newspaper office, and ask if they ever have any left-over coupon inserts, and what they do with them. If they just throw them away, ask if you can have one or two from time to time.
Answer

this Question
How can I start receiving coupons on products? They have to be mailed. I would like to start couponing, times are hard and money is tight.
By Connie
Read More

Answers
My computer can't download coupons and I have a big family and I like to shop and save. Can you please help me with some addresses that I can write or call.
By Mona from Washington, NC
Read More

Answers
Is there a way I can get coupons through the mail? I do not want to print them on my printer. I would like to also know if I can find out what companies will send you coupons in the mail.
Thank you. I hope you can help me.
Read More

Answers
Categories
Pages
More
Categories
Published by ThriftyFun.
© 1997-2020 by Cumuli, Inc. All Rights Reserved.
https://www.thriftyfun.com/tf94859487.tip.html