Zoe is 8 years old and a Maine Coon cat. I saw her on an Kijiji ad, then I contacted the owner, and they brought her to our home three days later.
She loves to go outdoors, and watch the birds, butterflies, and moths at night. She sometimes wanders next door to the neighbours. She slips away quickly. The first time our neighbour saw her, he could not believe the size of her. Maine Coons can be very large.
She is beautiful, and has us wrapped around her paws. She has huge beautiful green eyes, and you never hear her purr, but you know she does purr a lot. When I pet her I can feel the vibrations of her purring on her throat. I have to brush her daily, or she mats easily.
My husband wakes up before I do, and she knows this, so she waits in front of the back door, to go outside with him. She has a sweet and gentle nature and my husband and I love her.
By Marilyn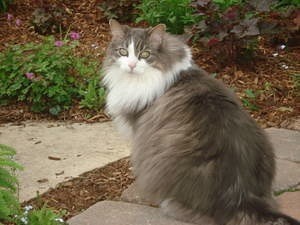 Add your voice! Click below to comment. ThriftyFun is powered by your wisdom!
September 17, 2010
0

found this helpful
What a beautiful and elegant creature. I can just imagine how much she has added to your lives. My husband and I live with a half Maine-Coon too. The other half of Sir Catty-Kit is Seal-point Siamese, and both breeds show up nicely in him. "Kit", as we call him is as much a part of our family as any human and he loves us all, but is very partial to our grown son. It was amazing to see how fast Kit "adopted" Mike as his brother.
Thank you for sharing Zoe with us.
Pookarina
September 18, 2010
0

found this helpful
Awww. Zoe is beautiful! It is so nice to hear that she is the "queen" of the house. Lol. As she should be.
September 20, 2010
0

found this helpful
I too have a Maine Coon. His name is Lurch. I always thought he was just a quiet purrer. I thought being such a large cat he would really belt it out! Now I suspect it's part of the breed. Maine Coons are gentle giants. Thank you for posting her beautiful picture.
Add your voice! Click below to comment. ThriftyFun is powered by your wisdom!
Zoe is 8.5 year old Maine Coon. We got her from an ad on Kijiji.ca. Zoe likes to go outside when my husband lets out our toy Dachshund. She likes to intently watch the birds in the trees.
One time Zoe, who is a 30 lb. cat, chased after a rabbit in the back yard. She didn't catch it, and we wouldn't let her, but I couldn't believe that she would go after a bunny. She sometimes acts more like a dog than a cat, LOL. When we get too busy for her liking, she lets out this loud pathetic meow, as if to say "pet me right now please".
She is a funny cat. Zoe likes to sit at the top of the chair right behind my head swishing her tail in my face. I have to brush her daily, which she actually loves. She has huge green eyes, and she has us wrapped around her paw. We love her very much and are glad she is in our lives.
By Marilyn S. from Chatham, ON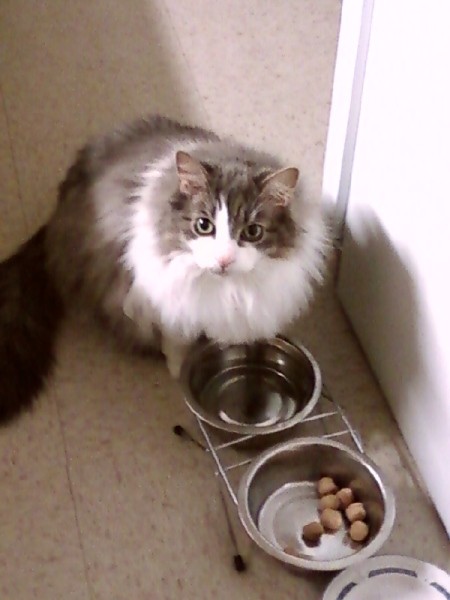 Comments
May 23, 2011
0

found this helpful
You forgot to mention how beautiful Zoe is. She is actually very beautiful, and I'm sure she is a joy to live with. We've had at least 10 cats over the years, and I've never met two with the same personality. I've found them to be as distinctive as people are, and they are amazingly intelligent. They "teach" us what they want and how to play, and once in a while, they allow us to teach them something. We love all animals, but I must have a cat in my life to be totally contented.
Thank you for sharing Zoe. We've wishing you a happy long life together.
Pookarina