My husband used to have his campers make these foil packets when he was a camp director. Now we make these when camping with the kids. It's a favorite; so easy to make and healthy too, which is good considering this is usually followed by s'mores for dessert.
Ingredients:
2 potatoes
1 lb. hamburger (I use ground turkey)
1-2 cans cream of mushroom soup (I use Campbell's Healthy Request)
2 cups frozen mixed veggies, defrosted in cooler
1 cup shredded cheddar cheese
Directions:
Cut the potatoes into 1-2 inch cubes and place on a foil square. Fold sides in to make a foil packet. Place on fire to pre-cook potatoes until soft. My husband didn't used to do this at camp, but I think the potatoes are too crunchy if you don't.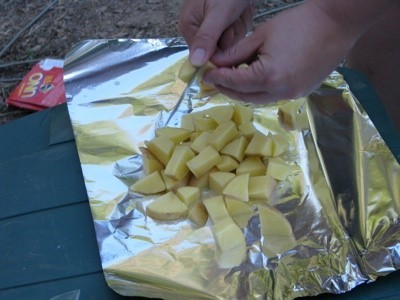 Once potatoes are soft, start an assembly line with the remaining ingredients. Start with 4-6 foil squares (big enough to make a packet). Spread on a thin layer of condensed cream of mushroom soup; this keeps the remaining ingredients from sticking to the foil. Layer raw ground meat, potatoes, vegetables, shredded cheese, and more soup.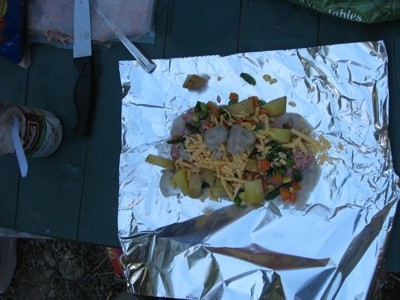 Fold foil into packets, and place on or in fire.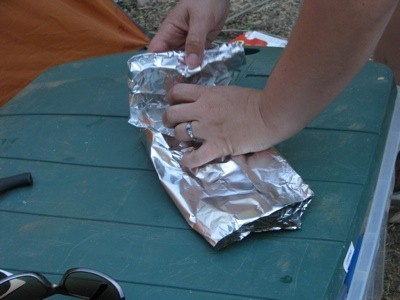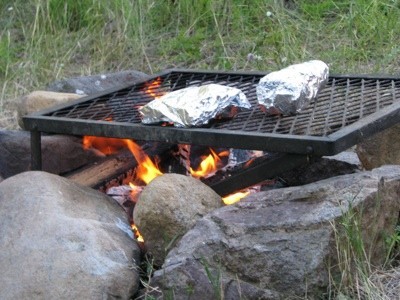 Dinner will be ready in about 20-30 minutes. Eat straight from the foil or transfer onto a plate.
Save any leftover potatoes to scramble in with campfire eggs and sausage in the morning.
Servings:
4-6
Time:
5 Minutes Preparation Time
40 Minutes Cooking Time
By Stephanie from Hillsboro, OR