How can I reactivate an ink stain, on a cotton shirt? I've seen lots of ideas for removing the stain, some say not to wet it, water will set the stain. Others say wet the stain with cold water to reactive it.
I'm confused. It's 3 days old and so far I've tried baby wipes, baking soda, and lemon juice, but today I found out my husband had washed it (in cold water only).
Do I need to reactivate it, is it possible and how can I do it?
Thanks :)
By Rachael from Melbourne, Australia
Add your voice! Click below to answer. ThriftyFun is powered by your wisdom!
March 23, 2011
0

found this helpful
Try Milk, I know it works on a fresh ink stain as I have used it.
Good Luck.
March 23, 2011
0

found this helpful
Like Quinnba, I would suggest milk. Just soak the inky area in the milk for a couple of hours and wash as normal( cold water, hot might set the stain) hopefully that should work...good luck
March 23, 2011
0

found this helpful
I have done this on my ex husbands shirt even after washing and drying and it worked. Hairspray the ink and have a blotting cloth under it, then wash as normal and double check it before drying.
Sometimes (depending on the ink) you have to do it twice but it has always worked for me. Good luck.
Add your voice! Click below to answer. ThriftyFun is powered by your wisdom!
I need to remove old ball point ink stains from 100% cotton Carhart jacket. Any suggestions?

By Auby T
Answers
December 13, 2011
0

found this helpful
Have you tried anything oxyclean?
December 14, 2011
0

found this helpful
Rubbing alcohol or hairspray will remove ballpoint ink. After removing ink, launder garment.
Answer

this Question
How can I remove an ink stain from a cotton blouse (white) that has already been treated with spot remover and washed?

By stephanie from Carbondale, CO
Answers:
Ink on Cotton Fabric
I've heard hairspray works great. (05/17/2010)

By Keeper
Ink on Cotton Fabric
Back in the 70s I used Amway L.O.C. (liquid organic concentrate) to get ink and blood out of my nurse uniforms. I think they still sell it, but you can find out for sure at amway.com, plus you you can find out if they or any of their dealers will ship overseas. One tip on use: I used it full-strength for stains, and scrubbed the spots, sometimes even vigorously rubbed my thumbnail over the spot for intensive scrubbing! Even if the scrubbing causes a slight 'worn spot' on the fabric, it's still better than not being able to wear it at all! Good luck! (05/18/2010)

By CJaneC
Ink on Cotton Fabric
I had a Pilot v5 or v7 pen bleed dark blue ink into an expensive beige dry clean only jacket. I took it to my dry cleaners, who tried a couple of professional ink removers and they couldn't remove it and gave it back to me. Figuring I had nothing to lose, I tried rubbing alcohol, acetone, non-acetone nail polish remover, hairspray, and something called "Goo Gone" that says it removes ink. None of these worked.
Then, on a whim, I tried mixing some OxiClean (the white powder) into a paste and applying it with a toothbrush. The stain literally dissolved under my eyes. I was amazed. One more treatment and a gentle rinse, and the jacket looks perfect now (I've attached a picture of where there used to be a dark blue, 2 inch wide stain).
So try OxiClean! (06/15/2010)

By camilla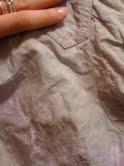 Does anyone have any tips on how to get blue pen ink from cotton fabric? The fabric is a pale green bedspread. Also, if you have any tips on how to remove the same ink from a painted wall that has been painted with flat paint in yellow.
Thank you for any help.
Darlene from Kingston, ON

Answers:
Ink on Cotton Fabric
Hairspray (Aquanet) is what I always use for ink stains. The GooGone company also makes a product called InkAway. I own it, but I've never used it since I still have the hairspray around. (01/27/2006)

By AnnMarie
Ink on Cotton Fabric
I dropped an ink pad on a white cotton skirt once. I put alcohol on it and then some soap and just worked it gently, rinsed, and repeated. You might want to try it on a small spot first. Oh yeah, use Dove or Ivory soap. They are the most gentle.
Hope this helps.

Tonya
(01/27/2006)

By Tonya
Ink on Cotton Fabric
We used a stain remover called Energine. The Aguanet hair spray also works great. (01/29/2006)

By Willie