May 1, 2010
0

found this helpful
Great idea. Pet carriers are quite pricey. I have pet items on my list when I yard sale. Thanks for sharing.
May 3, 2010
0

found this helpful
Fantastic idea!
Even though I have a large pet carrier, it's very difficult to get the cat in. I usually turn in up on the end and drop the cat in from the top.
I've also had problems with the vet trying to get the cat out of the carrier. They've had to disassemble the carrier by taking the top off to get to the cat.
This will solve both problems.
THANKS!
October 5, 2010
0

found this helpful
I don't understand the problems you people are having getting your cats into the carriers. Mine loves his carrier and sleeps in it quite often. When it comes time for a trip to the vet or where-ever, I simply toss one of his toys in there. Or sometimes I'll use a laser light to entice him to go in. He loves to chase the laser light and will pounce right in there after it. Once he's in I give him a small special treat for a reward. I leave his carrier open in the living room at all times so he's comfortable going in there at his will, and has no problem going in when I want him to. Also my vet has never had a problem getting him out of it either for the same reasons.
December 2, 2011
0

found this helpful
Another way to get your cats (or for others, dogs) into the crates easier (no matter what kind of crate) is to leave it available to them at all times. Keep a favorite blanket of theirs, and also toss in a treat every once in a while. Not rawhides, but treats that they will want to go in after.
Do the treat thing once or twice a day. If you only do it when you are trying to get them into the crate to go somewhere, they will catch onto that trick real quick and not go in no matter what treats you toss in there.
But if you let them get used to going into it on their own, they won't be so afraid to go in when you want them to. I've done this with every cat and dog I've ever had. Never failed yet!
December 2, 2011
0

found this helpful
Thank-you, Karen, for the marvellous idea.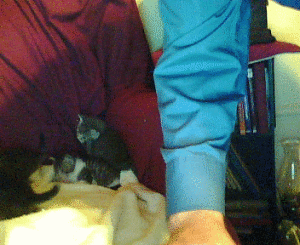 June 12, 2012
0

found this helpful
Totes like this one also make great storage for dry kibble. It keeps the food clean, dry, and free from pests. I cut the name/type of food from the bag and tape it to the lid.
August 13, 2014
0

found this helpful
I'm sorry, but I just don't think this is a good idea. Even with the air holes, a bin like that would quickly become very hot and uncomfortable. Animals can quickly become overheated and suffer a heat stroke. I would be afraid for my pet's safety.
I hope that you will think this over very carefully before you put a helpless cat or dog in a plastic bin.
August 14, 2014
0

found this helpful
This is NOT a good idea. These bins get VERY hot! And the snap down lids are not locked! Your poor pet is either going to die from heat stroke, or push open the lid and escape!
August 15, 2014
0

found this helpful
I have to agree with those who don't like this idea. The holes are much too small to provide adequate ventilation. Store bought carriers have much better airflow so you should make much larger holes. ThriftyFun shouldn't endorse this as a good idea.
Editor's Note: The staff at ThriftyFun try to weed out the worst tips and promote or reward the best ones, but there are always ideas that will wind up becoming controversial. Be sure to use the "Thumbs Down" button in addition to sharing your opinion in the feedback to help other readers make an informed decision.
December 2, 2014
0

found this helpful
I think this is a very unsafe, unkind way of transporting a pet. It can get too hot inside and there is not enough ventilation. Please rethink this poor idea for the sake of your pet.
January 8, 2017
0

found this helpful
My husband and I just came up with this idea ourselves while trying to think of a way NOT to send $40 on a new crate for our huge cat (our crate for 2 previous cats is too small for our new big guy)... But we said IF we did this it'd have to have latch handles and TONs of good size holes... To actually mimick the ventilation of a traditional, hard sided, plastic cat carrier. I thought it was a great idea so googled it to see if it's been done/found this.. I think with more (and larger/using the saw bit attachment thing (sry - not my area of know-how) to make (many)holes the size... Of a half dollar... And with the latching fold over lid... It'd work great for a trip to the vet and back... Idk abt a cross country trip... But in a climate controlled car...maybe. ... Well, for a local vet I think it's a good idea
January 8, 2017
0

found this helpful
On second thought... I wonder if we can cut out the front, sand down the plastic rough edges, and glue on a mesh fabric... Or add ... Idk ... Chicken wire... By drilling holes around the opening to use metail wire to tie it on.... To mimic the plastic ones/more with greater open ventilation....