I also was never taught to be frugal. I was only taught to work hard and anything on sale was something you didn't want, it was someone's throwaway.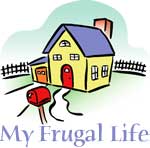 My family was always tight on money.
One time many years ago, I came across a friend that always had food in her house, and her bills were always paid. She saw that we were in dire need and showed me how she did it. What a world she opened up for me! My husband noticed that we were starting to have more food in the house all the time now. Many times, he and the kids could look in the pantry and find many surprises awaiting them and the bills were always paid. My husband was so pleased, he said "Whatever you are doing, keep doing it", In tribute to a friend, and ThriftyFun, remember, think outside the box. Come up with different ways to get what you want. Make a game of grocery shopping, spending less and getting more. I love it.
And to you Glenita, always thank you!
Jamish from Tribune
Do you have a frugal story to share with the ThriftyFun community? Submit your essay here: http://www.thriftyfun.com/post_myfrugallife.ldml