August 8, 2010
0

found this helpful
Best Answer
Strained yogurt or cottage cheese will substitute in recipes but it's not an identical substitute. The yogurt is more tangy than cream cheese. The cottage cheese should be blended in a blender first to eliminate lumps. Strain in a coffee filter placed in a mesh strainer overnight.
Jello No Bake Cheesecake is a far cry from real cheesecake. It's probably made with whey, artificial flavorings and chemicals. If you find you need cream cheese so often, why not just buy it? It lasts much longer than the expiration date.
August 9, 2010
0

found this helpful
Best Answer
You could probably get by with either an instant, or cooked pudding that can be stored in the pantry for quite a while, but it won't have that cream cheese flavor. If you are using it in a pie, just reduce the amount of milk by 1/4 cup to make it firmer.
August 10, 2010
0

found this helpful
Best Answer
Jello Brand makes cheesecake flavored pudding. I bet if you added a little vanilla to freshen it up it would be similar. I only bake cheesecake from scratch because I prefer the flavor, I can adjust the sugar content and because it's so easy.
I don't do the water bath though, I just put a lasagna pan with a couple inches of water on the shelf below the cheesecake. Try it with hot fudge! MMMMmmmmmmmmmmm
August 10, 2010
0

found this helpful
I agree with OliveOyl, cream cheese is not that expensive. I agree too that the mixes are just not good for your health. Who knows what kind of chemicals are in the mixes.
August 10, 2010
0

found this helpful
Jello makes a good cheesecake flavored pudding. Walmart makes their brand as well. It won't taste exactly the same but will work for a sweet version.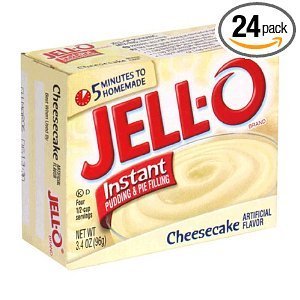 August 10, 2010
0

found this helpful
I couldn't survive without cream cheese. I don't believe you can make cheese cake without cream cheese. Pudding is pudding. You would have to eat it with a spoon.
I even buy fat free cream cheese and make cheese cake from it. They are simple to make. Just a few ingredients. The Philadelphia cream cheese box usually has the recipe.
August 11, 2010
0

found this helpful
To make a really delicious cheesecake, buy a container of Philadelphia Ready To Eat Cheesecake Filling. You can find it in the refrigerated pudding section of the store. Buy a prepared graham cracker crust and there you have it. Just spread the cheesecake filling into the graham cracker crust. So easy and tastes delicious.
April 23, 2018
0

found this helpful
Zoi Greek yogurt in honey flavor. Tastes almost identical to cream cheese. Healthier and cheaper alternative.