With about an hour's time and about 200 yards (unless you are just opening a skein and don't need to measure) you can have this very pretty wall hanging.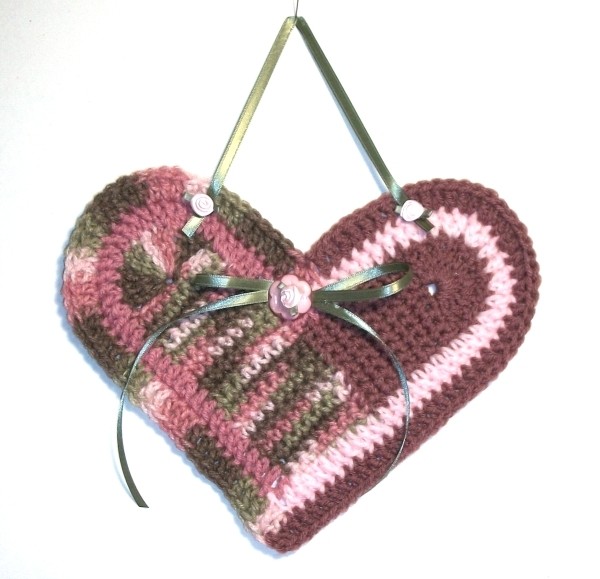 Approximate Time: 1-1.5 hours
Supplies:
varigated or solid yarns to match
size H or G hook (depending on maker)
ribbon, roses, button
other items according to your taste
cool temp glue
Instructions:
Before I begin, I want to let you know that this can be continued on for a pillow, but I ran out of the primary color so I stopped and called it good.
This heart begins with a ch 9 and turn, making 8 sc in next 8 chains, for 18 rows. Make sure you have 9 stitches across so you can make the rounded end.
Turn, without a ch 1, and make 10 treble crochets in 5th st. and slst to end of last row. See photo for help. Break off and weave in tail.
With alternate color, attach yarn to base of finished piece, and make a sc in 8 spaces. Working with the side of a strip is tricky, so make sure it doesn't cup or flare. If you are a novice artist, zoom in on the shot and/or ask a seasoned pro for help. Once you get used to this, it will come easier. Make a sc in each stitch across and ch 1 and turn for new row. Keep going till you have 10 rows.
NOTE: You will notice when you crochet sc's that two rows are like a row themselves, almost like it's one row. I find them easier to count, so I just make sure I have 5 sections with two rows each. Look at the shots and you will know what I mean.
End the side of the heart the same as you did the other. You will see from the shots and see your work is now even in length. If it isn't you didn't go far enough or went too far. Adjust if you need to and weave in the tails.

Now, you can attach the second color by attaching the yarn at the 2nd st. up from the second side. Basically, you are simply making it so you don't have to sew this up with just two stitches that will show later. Ch 2, and make a dc in the first 2 st of the first side. Make 11 dc's then make 2 in next st, 1 in next st. and keep going till you are around the curve. Make one in each st to the bottom of that first color. Break off and weave in tail.

With your work now turned, attach the 3rd color to the base of the second color and do the same thing in reverse. With the first color, attach to the 2nd color and repeat as before, ending with the 2nd color to finish up. You can use all different colors if you want, but I had these and wanted to make it blend in.

I used a strip of ribbon a color of the original variegated, with a pink floral button, and three matching pink and olive green ribbons.
OPTIONAL: You can make a foam or felt heart just a bit smaller than the shape and glue the heart to it, to keep it stiff and keep the shape if you want. Or you can block it before the embellishments go on.
This makes a nice gift to give, or a nice gift to keep. We all deserve gifts, don't we?
As with all my hearts, the colors you use can be chosen based on someone's room décor, personal favorites, or to celebrate a holiday. I will be making some Americana hearts this summer, but this one works for Valentine's Day and Easter, too.
N-JOY!
By Sandi/Poor But Proud from Salem, OR