May 11, 2009
0

found this helpful
Our coffee pot is on the counter near the sink, and the coffee supplies are kept in the cabinet above. The toaster and microwave are between the fridge and stove.
I guess there could be a 'perfect' placement for time efficiency, but I have never needed to be that efficient.

May 14, 2009
0

found this helpful
It depends on how you use them and how much counter space you have. We use the coffee pot a lot so it stays on the counter near the sink. By the way, we had to buy a new coffee maker since the coil burned out on the old one. The only problem with the new coffee maker is that the cord is very short. Another one of those foolish safety features. We don't use the toaster that much, so it's on a kitchen shelf. I have a handheld vacuum sealer that is used daily so that is near the sink.
We don't have a toaster oven, not enough counter space. The microwave is on a small tall dresser with drawers across from the sink. I use a long and narrow shelf that are sold for above the sink. But I use it on the counter. It holds a variety of small items we use every day, like the sweenter, our vitamins and such, salt and pepper, pen and paper, etc. Everyone has their own personal lay-outs in the kitchen.

May 14, 2009
0

found this helpful
www.thriftyfun.com/tf93350968.tip.html
This was what I did and still do with my new kitchen. You can make shelves with supports underneath out of old v8 cans covered with fabric or painted, like I did.
I currently have mine up on old green olive jars filled with dollar tree rocks and colored water. It's nice to have the space underneath, too!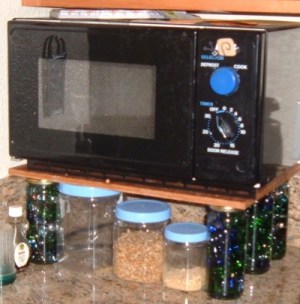 christi
Bronze Recipe Medal for All Time! 52 Recipes
May 14, 2009
0

found this helpful
I have a tiny kitchen and I cant stand things to be cluttered. So I only leave out three items that get used daily, coffee pot and can opener, which are on the table because our table is an extension of our counters, though a lot lower. And the microwave is on the counter between stove and fridge. Everything else has goes in a cabinet, on top of my cabinets, or in the little pantry.
It was nice to have a pantry but only had shelves starting about halfway up the wall, so I put a little three tier wire basket shelf and put my can goods on it. I also fit a small round end table in there next to it and I put jars and such on it, then underneath I put more appliances.